This is Coleford in the Forest Of Dean, the town where I live.
My girls went back today. D1 has gone back to her little bedsit and D2 has gone back to her student room and uni. D3 is off to spend the night at her boyfriend. So just hubbie, Dandy and me.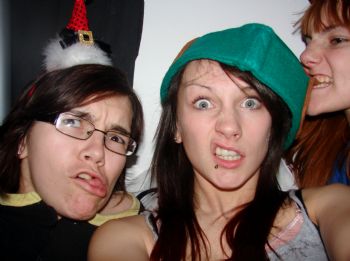 I do love having the girls home, but there comes a time when it is so good to see them go back home. Oh my word, but they do get lazy here! Normally the house is relatively clean most of the time. With just hubbie and me and D3 at collage all day and then in her room most evenings doing collage work it stays that way. But this holiday has been a nightmare of going behind and cleaning. D1 will get a clean cup out every time she has a cup of tea rather than wash up the one she just used! Jeez at one point it looked like we had had an army of visitors with all the washing up. And they do themselves a sandwich and leave bread crumbs, cheese bits, and all manner of things on the sides and dirty knives out and then they leave their dirty plates in the bedroom, in the living room and wherever else they have been. So I was really glad to see them go home today.
Oh don't get me wrong, it has been a wonderful holiday. We have had so much fun playing Just Dance 4 as a family and seeing hubbie shaking his bootie is a sight I will never forget!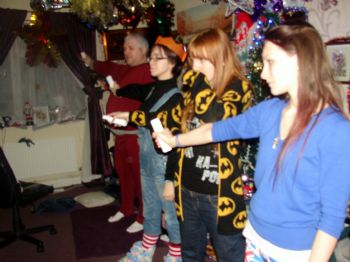 Trying to do extreme in a onesie that is way too long and has feet was hilarious!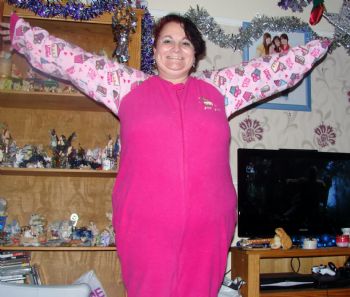 ME, ROCKING MY ONESIE LOOK!
So now the holidays are over, the food and drink all gone, the decorations put away and the house cleaned. I am now ready to step out of the little family bubble we had going and back to the real world. Am I the only one who feel like that? You don't see anyone, you don't go anywhere, you just spend your day and nights with the family in the home. That being myself, hubbie, 3 daughters and Dandy (in case you didn't already know) It's like a little fun bubble of togetherness. Anyway, now it is all over. It's a new year. Last year I made a promise to myself that I would give up smoking. I don't like to say new year resolution because that always has a negative, never happen vibe to it. Well, Jan 1st was my 1 year anniversary of being smoke free. So this year, my promise to myself is to lose weight. I'm not setting a goal because that adds preasure of Oh my goodness I still got another so many pounds to lose! I just have the goal to lose weight. Whatever comes off this year comes off forever. Healthy eating, back to eating breakfast which I haven't done once this holiday! Back to drinking my 8 glasses of water a day, eating my fruit and veg. Out with the sugar, crisps (or chips in US), cakes, pastries and biscuits to name but a few holiday foods. Dandy also needs to lose weight and we are now measuring his food to limit his intake to the correct amount a day. I also want to spend more me time but real me time, not just me time on the computer playing games and doing nothing. I do my cross stitch which gives me something to show for my time.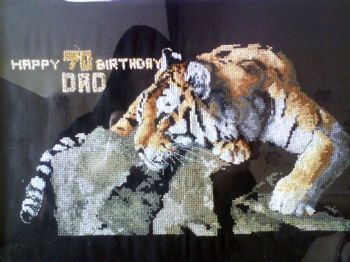 But I want more. So I am going to do some meditation and this year I want to spend more time on my Craft, learning it, doing it. I also want to be more active. Well, as active as I can be with HSP and Arthritis in both hips. Just Dance 4 and Wii fit are the perfect tools. I can do as much as I can each day in the warmth and comfort of home and no one to laugh at me when I can't get my body to do what I want it to, well, no one but me and hubbie and that's ok.
AND I also want to break a family curse. The number 13. They say it's all just superstition and all that, but not in my family. 13 actually is a bad number. My uncle lived at number 13 and had a house fire, my sister lived at number 13 also had a house fire, another sister lived at 113 and she had a house fire that ruined everything and made her house uninhabitable. My Uncle died on Nov 13 and my Father died on March 13. That's just a few of the reasons it isn't just a family superstition. So with this year being 2013 it doesn't look to be promising. Well that is what we all want to break. Instead of being down and out about it we have all sworn that this will be the best year ever!
So here is to making dreams work, being a new me, and breaking a family curse!