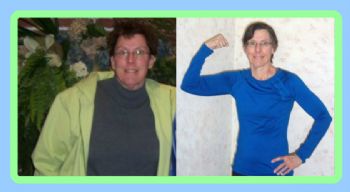 2012... A year ago I sat here thinking this could possibly be the best year of my life. I felt incredibly good! The changes I had made the past couple of years had taken hold, and I found my life had finally shifted to that of a predominately healthy and active lifestyle. I had regained my self-confidence, and felt strong and in control of my life.! Little did I know, 2012 would turn out to be the saddest and most challenging year I had experienced in all my life.
In 2012 I would come to know devastating loss, yet through the experience, I would receive unpredictable blessings. In March I lost my beloved Mother, after a seemingly sudden illness. Sitting by her bedside as she lay dying, I had enormous guilt! I spent more time with her the last 6 weeks of her life than I had spent with her the previous 2 years. I had been so preoccupied with MY health, MY well being, MY workouts, MY nutrition, that I ignored all else. The loss was difficult! Yet it was during this time, when the hard decisions were to me made, that I bonded with my siblings. We all found an unbelievable strength, deep down, that we didn't know existed. Today...we are united and our bonds are stronger, a true blessing!!
In April... I went through my second surgical breast biopsy. I was feeling better than I had felt my entire life, & again a black cloud was hanging over my head. It messed with my mind. Even though the results were good(benign), it'll still be another nine months before I could possibly be given the all clear. But what doesn't kill you makes you stronger-right? Hopefully Sept. 2013 will give me the results I have been waiting for!
Today, I have the tools to deal with life situations. I find that now, instead of grabbing a bag of chips when adversity strikes, I grab my MP3 player and go out for a walk/run! Instead of reaching for a candy bar , I grab a weight and lift it overhead. Instead of driving to the fast food joint, I drive to the gym! And instead of feeling sorry for myself, I feel grateful for this site, and for all my friends. I am proud of my dedication and hard work, and want nothing more than to share my success through motivation & inspiration!
I look at the pictures, and it amazes me how far I have come! But I know my work is not done. Becoming stagnant in my workouts, and complacent with my progress, would surely be a death sentence for me. My success in weight maintenance is contingent on: focusing on my goals, working my current fitness/nutrition programs, and improving upon them on a DAILY basis!
So...here are the goals I would like to achieve in 2013:
** Learn to LET IT GO. There are truly things we cannot change and cannot control. Kick guilt out the door...it is out of my hands. I can only control my choices. I will not let the past adversely affect the future!
** RELAX...don't sweat the small stuff! I need to prioritize what is really important and what really doesn't matter. Does my house really need to be spotless?? Do I have to get all the laundry done before I can sit down for a rest? I guess I need to understand that EVERYTHING does not have to be done to perfection this very moment. Enjoy life...progress, not perfection!
** Watch portions. I generally eat pretty healthy, but I find that I often get too many calories from "Healthy foods". When the scale starts creeping up...this is usually the culprit in my case!! Watch it!!
** Specialized strength training. I currently do 3 general strength training sessions a week, either machines or free weights. I'd like to possibly go to 4 sessions a week...and be more specific in nature. I prefer free weights so maybe..1 day legs, 1 day arms, 1 day back/ abs, and 1 day chest /shoulders. It's attainable!
**2500 fitness minutes per month. I feel like need to take the minutes to the next level. This should be a challenge considering time constraints when working! Adding an extra strength training session per week and 15 extra cardio minutes per day would make this goal possible!
** Take on a 10K...I've done 5K's but I know I could do a 10K. I'd have to walk/run it. I do run as much as I can, but I'm not a hardcore runner nor do I aspire to be. I want to take it a bit easy on the old joints as I get some good sweating in!!
That's it friends..no lofty, major life changes. I made my major changes in 2010!! I'm on the right track...I just need to keep chugging along. Consistency has always been key to me. It doesn't matter how long it takes me to finish the race....as long as I finish!!
Good luck to you in reaching your goals. Let's own 2013..Shall we??
Peace out
Carol