Hey SparkBuddies!
Well, I'm going to call this a very successful week, given that I didn't start watching what I ate or exercising under New Year's Day. So it's a 3 day effort that let me drop 3 pounds... largely water I'm sure, but still nice. Oh, and in case you're wondering my scale at home is off (heavy) by .6 pounds, as determined by the weight test... I put my kettlebell and 2 dumbells on it that should weigh 31 pounds, and it weights 31.6. For that reason, I round my ticker down to the nearest whole number (sometimes that's in my favor, sometimes not - but it all evens out in the end, right?). Plus, whole numbers just make me happy - ha! Here we go, as promised: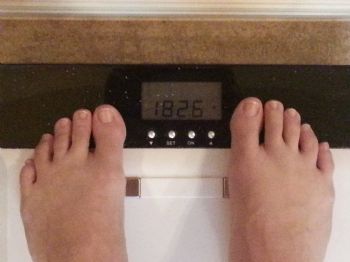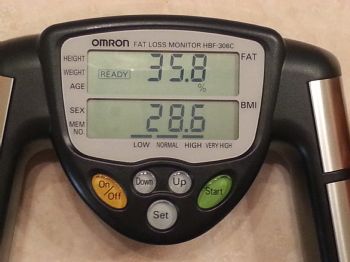 I just realized that my feet are really puffy in the morning, and I need a pedicure. Guess I'd better hit 175 soon, since that's my reward. LOL! As you can see from the Omron, my BMI is still over 28. I need to get down to 159 pounds (I'm 5'7") to be below 25 and in the healthy range. I don't really trust that thing for being clinically accurate when it comes to body fat%, but it will give me a trend to watch. Once I hit my goal weight I will go to the bod pod again and get an accurate assessment to let me know if I still have more work to do on body composition. I'll tell you, the charts all say that body fat % of 31 or less is normal for women, but it's not a "cute" normal. Maybe more like a "today's typical" kind of normal. I'm aiming for 22-24% in the long run. I think I have too much chest to go below that, even at a healthy weight. We shall see! :) The bottom line this time around is that I refuse to get so hung up on the numbers that I stop enjoying life and obsess. All that does is cause binge behavior and weight regain, and since I really don't want to lose these 30 pounds AGAIN, I will be more mindful this time.
We leave for the cruise three weeks from today! I'm nervous and excited and worried to leave my kids all at the same time. We've done this before (a year ago, in fact), but it never gets any easier to leave my kids. I ordered a formal dress online today, because the one I have in my closet will not fit me by the time we sail... it just won't. I was sad and in denial over that, but now that I have a replacement 2 sizes larger ordered, I'm actually feeling more excited about the trip. I hate feeling down on myself, and not having a nice formal dress to wear would be really upsetting since it's so important to my Mom (they are going with us). The guys are even renting tuxes this year at my Mom's request. :) This may be the last trip they take with us, since my Mom's health and joints are deteriorating so badly. :( Hard to cruise if you can't walk, especially when you're too prideful to use a wheelchair or a walker. Sigh. I love my Mom, but I so wish she would make an effort to lose weight. It would really help her to get the load off her joints. Two years ago, she signed up on Spark for exactly one day and logged 2 meals (breakfast and lunch) before declaring that it "doesn't work for her." I'm sure you have all heard something similar from a friend or family member that isn't ready to change. Anyway, enough of that. I just hope she can enjoy our vacation even with her physical limitations.
Oh, and for Morticia - here is our beloved Chloe dressed up in her Mrs. Claus dress last year... RIP "Fat Dog."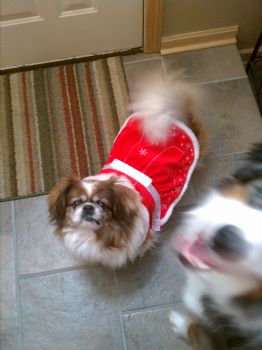 -Allison