I'm 5'6" @ 263 lbs. Over 40% Body Fat, and over 40 on the BMI Scale. Morbidly Obese, easily. (Was 330 lbs at my heaviest.) Fairly recently was at 242 lbs, so overall I'm not happy.
Thankfully I've avoided Diabetes and Dangerously High Blood Pressure somehow - I even have Excellent Cholesterol Results.
* But I hate being Fat. *
Appearance-wise, Finding Clothes Sucks. In normal shops it's Impossible, as my Waist is currently 45". (Down from 56".) My lady has pointed me to some sites online, but even the thought of shopping in special fat person shops is depressing.
Sleep-wise, my Sleep Apnea is back - yes, we're back to the person beside me in bed wondering why I've stopped breathing, and if I'll start again. That comes into my nightmares (drowning etc), and the lack of quality sleep does some fecked up things with hormones I don't fully understand which fights results.
Fitness-wise, it's pathetic. I used to be able to Walk 10-12miles without thought, now it drains me, so I just don't do it. My Cardio-Vascular system is obviously in need of repair - After starting at 100bpm at my heaviest, my Resting Heart Rate HALVED to 49bpm, but it's back up to 63bpm now. Not atrocious, but it's a fitness indicator I trust. I actually completed a 5K (with difficulty) at one stage, but I'm having to restart the Couch to 5K Running programme, as no way I could do that now. Was into Weight Training at gym in latter half of year, with steady improvements, but I've let that lapse.
Diet-wise, atrocious. Carb/Fat heavy, far too much Sugar and High on Processed Food. I haven't bee tracking a thing.
Death-wise, I still get twinges on the left side of my chest, heart area. The left side of my neck/shoulders feels… wrong. I passed out once coughing while playing guitar Hero. More recently, I damn near passed out again. I feel I'm a stroke risk.
Confidence-wise, My lady wanted to put a random picture up of me on the internet, and I refused. Confidence is shot. It's…. depressing.
Where am I now? I'm currently down just under 5 stone, with a good 7 stone or more to go. I KNOW how to lose weight - I lost 6 and a half stone once in my twenties. It's just that occasionally, I stop doing the things that enable me do this. Maybe it's the cold, the rain, the protests, lack of time, lack of transport, too much stress, there are a myriad of excuses. But nonetheless - I have a good treadmill in the house, I have free weights, resistance bands, a good turbo trainer bike FFS!
I just… sabotage myself.
So here I find myself at the start of the new year in desperation.
A healthy load of shopping JUST arrived, I discarded the last of the processed stuff. Got good multivit, green tea caps, fish oil caps, BCAA, creatine powder to back that up.
I'm back to eating Paleo, with Intermittent Fasting. Paleo feels healthier, and fasting helps me eat less of it. I'll be tracking food and walking/running/cycling/weight
s religiously. I figure 1.5 lbs a week is doable, and the body fat % will come down too with correct nutrition and exercise. Resting Heart rate will get back into the 50's. Waistline etc will contract, so I can shop in everyday shops.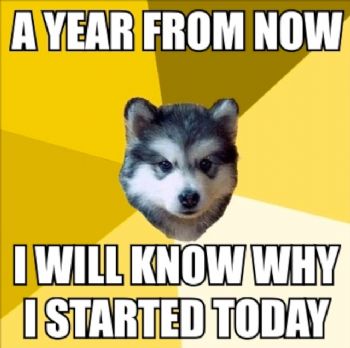 Here's to not following mum into an early grave!