Thursday, January 03, 2013
Last week I bought a 10 lb bag of Russet baking potatoes. They were on sale; we were expecting family during holidays, and we are descended from sturdy, potato eating, peasant stock. I was surprised to see nutritional information printed on the bag. I suppose in the "low carb" era, it was understandable that the company would want to tout the healthfulness of their product.
Only 110 calories per potato, read the information on the chart, for a 5.3 oz potato. The other nutrients also indicated a very healthy food choice. As a life-long consumer of carbs, a lot of them from baked potatoes, those numbers seemed low to me. Then, I weighed a few of the "spuds" in the bag.
Most looked like this.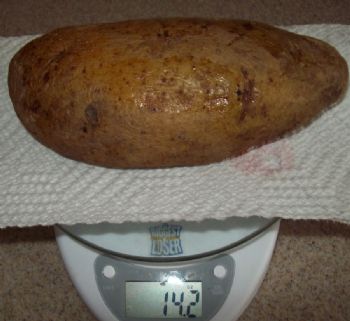 14.2 oz which translates to 295 calories.
The smallest potato was this one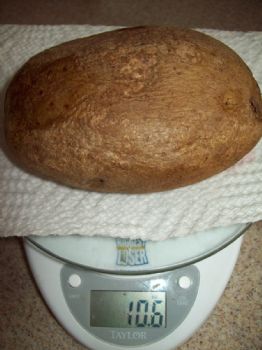 10.6 oz - exactly twice as large as the one described on the bag – 220 calories.
Of course, this is before any butter, sour cream or toppings are added.
There was no deception here. Everything was clearly and appropriately labeled. Yet, when have I ever seen BAKING potatoes half this size? Are potatoes growing larger along with everything else?
The lesson learned here is to be vigilant. I love my food scale. It keeps me honest.