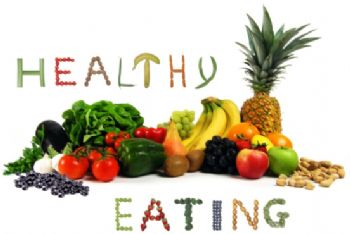 Quote of the Day: "Food is fabulous, and having a good relationship with it will make you healthy and happy!" (Denise Austin)
Awhile back I read somewhere that if you want to keep your weight loss on track you need to change up your calories and what you eat regularly. If you stay stuck in the same amount of calories and what you eat all the time your weight will be stuck to, stuck going nowhere. Then yesterday on Dr. Oz he was talking with Dr. Ian Smith from Celebrity Fit Club fame. Dr. Smith talked about how you have to change the amount of calories you have daily in a drastic way to keep you body in weight loss mode, so you don't get stuck.
This has me thinking of the way I should eat from now on to lose this weight once and for all. Think about it, in normal life you don't eat the same strict number of calories and meals every single day because if you did you'll get bored and then cheating starts to happen. Now if you change things up day to day, week to week, or month to month it will keep you in a normal working order to lose that weight. And that's what I'm going to be doing, changing things up each month to keep myself fresh and new for weight loss.
Right now January is the start of many things for us with our resolutions. I wasn't so bad for the holidays, but I also didn't really watch what I was eating. The good thing was I'm not much for sweets so I wasn't all over that stuff, some of you saw my stocking from my parents and lots of candy. It's all still there, in my candy stash box and will probably stay there for awhile. Since my eating habits during the holidays were not so good I'm starting this month with a 7-day break to start my body with a cleanse and getting it into the weight loss mode. I'm starting this plan on Monday. For the next couple of days I'm cleaning out the fridge and pantry, getting rid of the crap and the Christmas goodies still lingering around, go grocery shopping for lots of veggies and some grapefruit.
Here's my plan: 7-DAY BREAK
Start your 7-day break on Monday and end on Sunday. Select lean "Protein". During these 7 days Canned Tuna, Starches, Pop (of any kind), and dairy products including Cottage Cheese are not allowed. Beside water additional beverages include Coffee, Herbal Tea and Sodium-free water drinks.
MONDAY-FRIDAY MENU
BREAKFAST:
˝ Grapefruit
2 Eggs or 4oz. Egg substitute
SNACK:
˝ Cucumber
2 tbsp. Low-fat Oil based Salad Dressing
LUNCH:
˝ Grapefruit
7oz. Protein (Chicken, Fish or Beef)
up to 2 cups Mixed Salad Greens
2 tbsp. Low fat Salad Dressing
DINNER:
˝ Grapefruit
7oz. Protein (Chicken, Fish or Beef)
up to 2 cups Mixed Salad Greens
2 tbsp. Low fat Salad Dressing
˝ cup cooked Vegetables (except Corn or Carrots)
SNACK:
some raw veggies
SATURDAY-SUNDAY MENU
2 Eggs or 4oz. Egg substitute
˝ Orange in the A.M. and ˝ Orange in the P.M.
Unlimited Proteins (Meat, Poultry, Fish and Shellfish)
Unlimited Green Raw Vegetables (except peas)
After I finish the 7-day break it's time to eat in a normal way with lots of fruits, vegetables, whole grains, chicken, fish and lean meats. The 7 day break is a great way to cleanse yourself to, just do it for a couple of days every month. The full 7 days is for when you're kicking off your diet to really get your body into the mode of losing weight.
-*-*-*-*-*-*-*-*-*-*-*--*-*-
*-*-*-*-*-
You may or may not hear this on your news in the next day or so, the theater is re-opening on the 17th, but that's not the big news being reported. A couple of days after Christmas the families of the victims that were killed and other victims received a letter from the theater inviting them to a night of remembrance at the theater with a short movie screening and refreshments. Wait there's more they would like these families to R.S.V.P. to let them know if they will be attending. REALLY?!?!? The theater wants these families whose loved ones were gunned down to come to their brand new and improved theater with all the updated screens and sit in a theater where their loved one was killed or injured by that murderer.
Talk about disrespect! Many family members have decided not to go to this "night of remembrance" and are telling people in the community to not go to this theater EVER. You all know that I won't be going there. There were twelve families celebrating Christmas without their loved one and two days later you invited them to watch a movie at the place they were murdered? What are these people thinking? It's all business to them and nothing else, just money, money, money. I saw Cass last week, a handful of us went over to see her and give her presents. There is no way she is going to there ever. She doesn't want to see how pretty and new it looks now. How they covered all the bullet holes and redesigned the place all new and improved.
I just can't get over how insensitive the theater has been. I knew that the theater reached out to Cass and Sully's family the first few weeks, but nothing since and nothing to the other families who lost someone. The truth is that they didn't really ask the families, victims or the community what they want with the theater. They just went and did their own thing, thinking in time we will all forget and go sit and watch a movie where so much violence happened. They really missed the mark on this one. Shame on Cinemark/Century 16 for this. I will not be going there, EVER!