Thursday, January 03, 2013
LOL! I heard that twice today within 20 minutes of each other. One was said by the guy behind the desk at my gym, and the other was said by my girlfriend in Japan. Told them that my boyfriend's mom had gotten me some German chocolate cake for my birthday (it's tomorrow). I had two small slices today and ate half of each. The thing that really hurt my caloric intake was those three slices of pizza from Little Caesar's! Not even amazing pizza. Mediocre at best. But, boy, do I love pizza! Worked out at the gym for only 51 minutes today. I'm normally there between an hour and a half to two hours whenever I go. Even the guy behind the desk (I gotta ask him his name) told me "That was quick!" I said, "Yeah, I gotta go to the in-laws' house. My boyfriend's mom got me a cake." And that's when he said "Eat as much cake as you want, you worked hard!" I responded with "noooooooooo!" Haha. When I got home from the gym, I ate a small portion of meatloaf and mashed potatoes. Then Jeff got home 30 minutes later, and I ate some hot pizza that he brought home. I had no idea that his parents had made us dinner! Steaks, macaroni salad, pickled asparagus, artichoke hearts, flan....AGGGH!! So much food. I had to eat to not hurt his mom's feelings. (Felt guilty, because last week I ate some of her weird pasta salad dessert stuff, and when she asked me how I liked it, I said "it's different.") So yeah. My tummy is kind of killing me right now. Holy moly, I haven't eaten so much in awhile. So tomorrow, I'm going extra hard in the gym!!! Crap. Oh well, I can't beat myself up over it. I got some early birthday gifts! :) Yesterday, my friend Paris stopped by my job to drop off a hot pink fleece throw blanket and a microfiber pillow with colorful peace signs. It's perfect!!! Matches my jammies. Hunny's parents got me a bracelet with glittery purple hearts (I like!), and his niece and nephew picked out a double-stranded necklace with a peace sign and some other trinkets on it. Very pretty! I went to the backyard to watch the kids play on the swings, then Jeff's dad lit off fireworks! I also helped build a section of a ginormous vampire Lego castle. It was an awesome pre-birthday day!!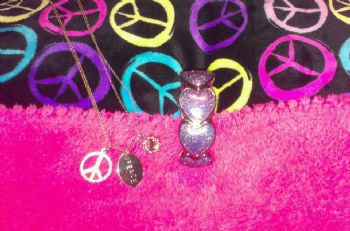 P.S. -- When I went to look for the photo of my presents just now, I discovered that someone named this laptop PIZZA!!! LOL!!!!!