Wednesday, January 02, 2013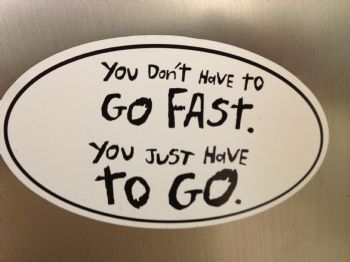 This is one of my favorite refrigerator magnets. I love to walk and have trained for and completed one marathon (one was enough!) a few half marathons and plenty of 10 and 5K's. The thing about walking is I usually don't want to do it! I have to force myself to start and for at least the first ten minutes am sure I am going to stop any minute. But, if I get through those first ten minutes I settle into a rhythm and enjoy the walk.
I am experiencing the same resistance about tracking my food. I finally am trying it though. I tracked yesterday and discovered something I think I already knew. I eat very well throughout the day. I make healthy choices. I'm drinking my water. But right before bed... I EAT! I'm not hungry. I don't know what need I am satisfying by eating like that. But I am glad to see the pattern. After all the first step is recognizing the problem and then I just have to go!