First, thank you so much for the loads of support I've gotten while training for this race. It really made all the difference, and made it that much more fun to know that I would get to blog about it when it was over!!
Yesterday I woke up before my alarm to wet, dreary day. It was 45º and the rain wasn't letting up... not the perfect conditions I was expecting! The email I got the day before made it clear that it was a rain-or-shine event, so I just had to suck it up. I suited up in my new running tights and sweatshirt, and we headed out.
The BF was incredibly sweet to not complain about spending his last day of vacation out in the cold and rain. He's so awesome, I'm truly lucky to have him. I had to pick up my number by 10:30, and the race didn't start until 11:10, so we had a lot of time to wait around in the car. When it came time for the 5k racers to line up, I was in awe at the number of people at the starting line! All types of people: serious runners with expensive gear poised to hit their stopwatches, elementary-aged kids, elderly, short, slim, tall, chubby, ALL KINDS of people.
I had 10 minutes, so I began my warmup by taking a few laps around the parking lot. Then I raced to hand BF my jacket and go line up.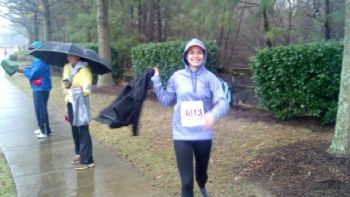 Here's me crossing the start.. there were so many people it took about 30sec to reach it!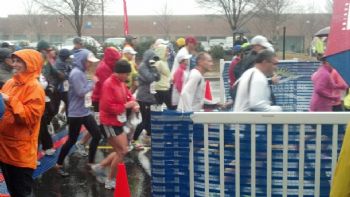 The rain didn't even phase me by the time we got going. I was very pleased with my outfit choice: the hat kept the rain out of my eyes, the clothing was moisture wicking so the raindrops just rolled off, my barefoot shoes don't require socks so my feet weren't weighed down.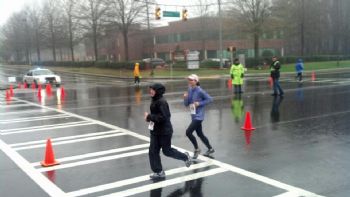 I couldn't keep a huge smile from spreading across my face. I was having so much FUN! There was thick snake of people as far as I could see in front of me, and the same behind me. It was an experience to be among them. Everyone was saying things like "Good Job" "There's nowhere else you'd rather be!" "Keep it up" . The BF was at just about every mile marker to take pics of me.. it was a nice surprise!
There were a couple moments where I toyed with the idea of stopping for a walk break, but I went into the race with a goal of NO WALKING. So I just backed it down a bit instead and got through it.
I was shocked when I passed the 6mile marker and the volunteer said the time was around 59mins... I was in PR territory!!! I saw the red flags at the finish and I started to flat-out sprint.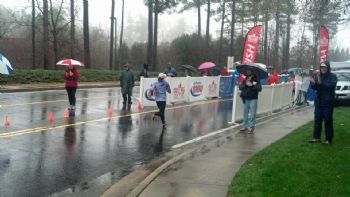 My unofficial finish time was 61 mins. A PR for fastest 10k time, and longest non-stop running distance. I'm extremely happy with that!! Plus I got a really cool shirt.
Now.. on to the next one :)