Tuesday, January 01, 2013
I'm going to make sure 2013 is the best year yet. Looking back on 2012 it was a very difficult year full of stress and sickness. For the first time in 3 years I was not sick last night or today so maybe this means I will not be sick all of 2013. I have been off all of my meds for weeks now and I feel much better. I will have to go for a check up soon (I need my thyroid pills refilled) but when I go I will make sure I don't have to take any more meds other than my thyroid pill. I'm tired of being on the stuff I'm on and I'm glad it is out of my system. Even my headaches are not as bad and I keep forgetting to take my meds for that.
My main goal this year it to keep on going and try to make it to 300 pounds by the end of the year. Which is not to bad only 62 pounds to loose and I know I can do it. I pray that this positive mood stays with me this year as well. So I found this site that has those Avatar weight loss models so I did that and below is my Current weight 362 (left) and my goal weight of 300 (Right)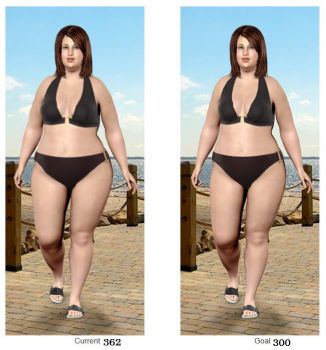 I hope everyone has enjoyed there New Year Day and may you all reach your goals this new year.
My goals for this week are pretty simple:
Drink my water and eat decent
Log my Fitness for the week
Do my workout 5 days this week
I created some craft things from pintrest that I'm hoping will help me with accountability and to not get bored with my fitness program. If things work out for the first 2 weeks with them I will post pictures of what I did!
Hope everyone has a great and positive week and I hope to blog again on my next weigh in day of 1/10/12.