2013 Goals
Tuesday, January 01, 2013
Last year I never made any goals, so I am making sure that I post these today, and dont forget about them!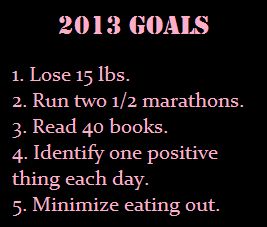 You can read more about them over at Fitness and Cupcakes!
fitnessandcupcakes.blogs
pot.com/2013/01/2013-goals
.html
In other news that I dont feel comfortable publicly blogging about, I am worried about J and I. I feel like lately we havent spent much time together and I am worried that we are growing apart. November and December were difficult months because he was really busy in November preparing for our base inspection, and then as soon as the inspection ended he came down with essentially walking pneumonia. By Christmas he was finally starting to feel better. We had a really nice Christmas Eve and Christmas dinner, and then we went back to work, but I only had to work 1 day, which meant the rest of the time I was really bored and lonely. I tried to keep myself busy, and I knew he had to work, but I felt like even when the weekend came that he just didnt seem like he wanted to spend time with me. And this could totally be in my head because I am still feeling pretty sad about life in general - 2012 was rough. I kind of made a point of telling him on Sunday that I felt like he didnt want to spend time with me anymore, and that I felt like I was a horrible girlfriend because we always do what I want to do and he feels like we cant do what he wants to do because I end up hurt or crying - I should also mention that by the time I started saying all of this, I was crying. And J doesnt particularly like to talk about feelings or emotions, so he just sits there and looks frustrated/annoyed. We ended up just watching tv shows and I know he felt like he had to entertain me. I dont need him to entertain me. I just dont want to be alone and I constantly feel lonely. I dont have friends here that I can hang out with. It is extremely frustrating. I wish I had girl friends to go shopping with, or workout with, or just hang out and watch tv or movies with. But I dont. If I am not with him or at work, then I am essentially alone. I dont even have my dog right now (luckily I get her back on Thursday when we visit my parents). I joined a book club, but those ladies only meet once per month, and I have only gone once so far. I am just really worried about us. I know I am not the easiest person to deal with.