On December 31, 2011, I went to bed at my normal time. This was a novel thing on New Year's Eve, prompted by an emphasis on getting enough sleep learned from SparkPeople. It worked out well.
On December 31, 2012, I remembered the previous year and chose to go to bed at 9:30. I've been getting enough sleep lately, so I was up at 5 before the alarm on a day when most people sleep late. I was leisurely about my morning routine, and still made it out to run by 7:15.
The forecast had called for light snow showers, slowly falling temperatures, and slowly increasing wind. When I went out, it was 28°F (-2°C) and cloudy with WNW wind at 11 mph. The predicted snow showers were not in evidence. Because it was not yet full daylight, I wore my headlight and taillight; but traffic was light. This was an anticipated benefit of running early on New Year's Day.
Had a pleasant 4.64 mile run, finishing at 32:32 for a 7:01 average pace per mile. I felt really good, and it was tempting to keep running for another two and a half minutes to get that next Spark Point. But I held to the planned route. My bad foot handled this distance well on Christmas Day, and reacted well to a reduced distance last Thursday; I want to give it a chance to react well and still be able to run 8 miles on Saturday.
Late in the run I thought I was getting a feel for what negative splits are like, but after looking at the splits I think I just used the first quarter or half mile as a warmup: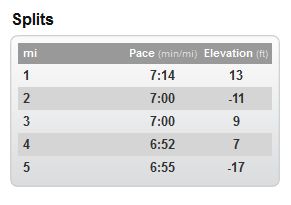 Later that morning, I did my normal budgeting for January. I use a program/method called YNAB, which is a zero-based budgeting system with a delay. What that means is, I budget for January with income I receive in December, and for February with income I receive in January. January's budget was routine, but I should have lower net pay in January due to the expiration of the temporary Social Security tax reduction. So I did an estimate of what that would do to my net pay, and trimmed 3.7% out of my par budget for February to put it where I can easily adjust it for actual January income.
Knocking 3.7% out of the par budget made me think about choices. As I was contemplating that, it struck me that this is similar to adjusting the daily calorie range for the nutrition tracker. At least, it's similar the way I do it where I track everything and eat to the ranges.
I have participated in many internet discussions on budgeting, sometimes with people who make over twice what I do but have trouble making ends meet. It's easy to say that they ought to have it very easy, and to a certain extent they do. Once they realize they can't spend more than their income, they have a lot of places where they can cut spending to fit income. But the cutting is painful for them, even though they're cutting stuff I never added into my budget in the first place.
I was reminded of this by my sister's blog from yesterday, The Facts of Life:
www.sparkpeople.com/mypa
ge_public_journal_individu
al.asp?blog_id=5182814
In that blog, she discusses how some people (males, with me as the prime example) get way more calories than other people (women, particularly petite women like her) and how she needs to suck it up and deal with it even though it isn't fair. She concludes that she can appreciate that her life is good even if she can't live on my daily maintenance range, which she described as being a binge day for her. How she emotionally feels about my issues of dealing with the changing maintenance range must be much like I feel about people with two or three times my income having trouble making ends meet. There will be intellectual understanding, but perhaps not much emotional sympathy.
But here's the deal in maintenance: From time to time, I need to adjust my calorie range up or down, in response to what is going on in my life and how the scale is reacting to my life. I don't want to outgrow my clothes, and it's dangerous to my health to lose too much weight. Those incremental calorie changes are like incremental budget changes. They require choices. In the case of calorie reductions, it means giving up food I've become accustomed to eating. I got some practice with that in 2012, as I had to reduce the calories I ate by as much as 25% in response to injury making me unable to be as active as I had been. That was an adjustment, much like cutting the budget. I had to find enough calories of food that I was willing to give up, while preserving the appropriate minimum amount of protein. (Minimum amount of fat is rarely an issue, and minimum amount of carbs is never an issue for me.)
In the case of an increase in the calorie range, it's not just making the numbers go up. I have to find something to eat to stay above that minimum number, on a consistent basis. That turns out to be trickier than budgeting an increased income, where the increase can always go into retirement savings or some other form of deferred spending. I can't defer eating calories I need this week. Finding a way to eat another 100 or 200 calories per day, and spreading them around so they don't all pile up in the evening, requires thoughtful decisions.
Actually, it's not the single increment of 100 calories; it's the cumulative effect of reversing that 25% reduction, plus adding a bit more to it, 100 and 200 calories at a time. One step is easy to sneak into the evening; but at some point, I need to eat more at breakfast, more at lunch, and more during the day so I'm not at the crash and burn point before I get to evening.
It's a good problem to have. I also have to remember that life is not constant. At some future point, I will be less active than I am now and need to trim those calories out of my nutrition plan. That's easier than adding, because trimming the calories will mean getting back to a way I ate somewhere on the trip of adding calories. The memory of how I did it before will make the decisions easier. But either way, adding calories to the plan or cutting them, is okay. It's just something that I need to do to successfully maintain my weight.