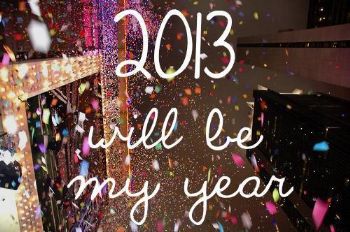 Quote of the Day: "And now let us welcome the New Year, full of things that have never been." (Rainer Maria Rilke)
HAPPY NEW YEAR!!! Welcome to 2013 my friends!
It's time to start 2013 fresh and new and that means resolutions for the new year. This time around, my resolutions will be sorta basic for the full year, but break it down to simpler ones each month.
It's exciting to have a new year with new blogs because these past couple of months I've been holding back on them and saving them for the new year. There will be more beauty blogs with tons of different subjects since they seem to be the most popular ones I post. No longer will I have "Play Days" or "Free Days" they are being replaced with something I'm calling "Bella's Corner", what to you see what that's all about, kind of cute and funny. Also, there are no books I'm follow this year. I will be doing the "Simple Abundance" book for myself, but will add things from it here and there. My blogs this year will be way more personal than anything I've done before. For two years I have blogged every single day and manage to do that without putting myself completely out there. I always hold back some and this year I have no book or lessons to hide behind, this is all me now.
I've been toying with names of what to call my blogs this year and I do want diva in it somewhere because that's who I am. I've thought of "Operation Glam-R-Diva" because for one it's my username and then I thought "Being Diva", but noooooo. There was "Divalicious", another no. I came up with "My Diva Chicness". I love the idea of being diva and not the snobby I'm better then you all out there annoying stuck on herself one, but a diva who has control of herself and what she does. The chicness has a tie into Paris and all things French, but also chic meaning a unique style that is all your own. That's what my goal is to be this year and that is the person that is screaming from inside me to come out and just be who I really am and want to be. A diva in control of who she is and lives her life for herself first. That's how to be, you come first in order to have happiness.
A BIG THANK YOU to all of you who read my blogs daily. You truly are amazing and you know who you are ladies. ((((((BIG HUGS)))))
-*-*-*-*-*-*-*-*-*-*-*--*-*-
*-*-*-*-*-
2013 New Year's Resolutions
For my resolutions this year I thought I go with 13 (3 fitness, 3 nutrition, 3 balance, 3 beauty and one fun extra). This is what my year will look like.
FITNESS
1. To get to 2,000 monthly fitness minutes: I know it sounds like a lot reading it, but it's roughly about 60 minutes every day. I could do more on a couple of days just to have a day off for rest to.
2. Step it up to 10,000 steps every day: We've all heard that getting to 10,000 steps each day is what you should aim for, but my goal is to continue going over the 10,000 each day.
3. Change my fitness plan monthly: The key to staying on goal this year is to not get bored with my workout routine. The way to do it is change things up with my cardio, strength and yoga each month. I'll put together a plan each month.
NUTRITION
1. Cut out as much processed/chemical foods in my diet: I'm really going to clean up the way I eat this year. It's time to stop all the gunk I put in my body from processed foods. The goal is to eat as natural as I can.
2. Pop is a no go: There really is no need for it and I've done it before. This year I really want to break free from pop altogether.
3. Healthy Recipes: Time to get my chef's hat on again and cook some healthy recipes. I have lots of cookbooks and healthy ones too, it's time to use them.
BALANCE
1. Meditate daily: Silence can be golden and this year I'm going to learn to meditate to bring balance to my life. I will start with a few minutes and build up throughout the year.
2. Yoga: I want to get into a normal routine with yoga because I love doing it and the way it makes me feel.
3. Journal/Gratitude journal: It's such a great way to end a day by taking stock in what was good that day for you no matter how big or small.
BEAUTY
1. Diva Chicness Day: Nothing like a little pampering each week to make you feel good about yourself.
2. Take care of my skin: It had a rough 2012 with the whole Clinique ate my face and body thing. This year is all about getting it back to where it was before Clinique got a hold of it.
3. Eat to look younger: There are so many foods out there to help your skin and hair and I'm adding more of those this year,
EXTRA RESOLUTION
1. Diva Special Treat: Twice a month I want to treat myself to something special. It could be a movie or haircut, but doing something that is special for me.
Here's to a great 2013 filled with happiness and success for all of us!