Spiced Roasted Chickpeas
Tuesday, January 01, 2013
I am making several flavors of "Spiced Roasted Chickpeas" today to keep on hand for when I need a crunchy snack. Cheap and easy to make. It takes a little time in the oven (about an hour at 350 and I stir ever 20 minutes) but hey, I'm doing this while getting my spark on. Don't worry. I'm going walking again later.

I soaked a package of chickpeas overnight in the fridge and cooked them up this morning. The entire one pound package cooks up to 6 cups which is enough for 12 servings. I drained them and patted them dry and I am making them in three separate batches so I will have 3 flavors.
Mrs. Dash Fiesta Lime
Mrs. Dash Basil and Tomato
Garlic powder and Curry
Toss 2 cups cooked chick peas one teaspoon olive oil (just enough to help the seasoning stick) with spices to taste, and .25 teaspoon of sea salt. Each batch makes four 1/2 cup servings that can be cooled and stored in an airtight container.
This is what one batch looks like: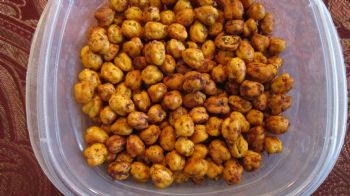 ½ cup serving:
139 calories, 21 grams carbs, 2 grams fat, 7 grams protein, 135 grams sodium. Costs about $.10 a serving.
Next time I make them, I'll be a little smarter and make them in the big oven all at once. Jeesh. The new year just started and I am already learning from my mistakes. I can't wait to see how smart I am by 2014.