Tuesday, January 01, 2013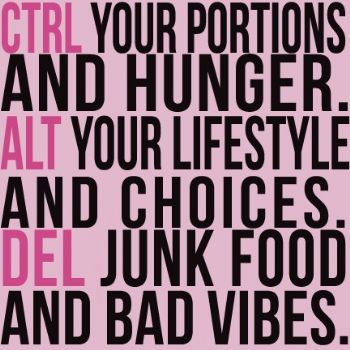 Ctrl = Control | Alt = Alternate | Del = Delete
Portions and Hunger - My experience is that using the Nutrition Tracker to plan out what I'm going to eat goes a long way towards helping me feel satisfied and not like I'm starving. Yes, part of that is because of the food choices, but some of it is because I can reference what I've already eaten and perhaps it's thirst that's making me feel ravenous.
Lifestyle and Choices - It's funny that friends and family can be both happy for you that you're becoming healthy and also want to feed you as a sign of their love / be critical of food choices. I can only control one person - me. What I choose to eat, or that I choose to portion out my food solely relates to me - I am not the food police.
Junk Food and Bad Vibes - If I want something junky, I have to go and get it. So any kind of junk food that's a trigger for me to want to inhale all of it - never comes to my house. And if I get something I consider as junk food for a present - I have no problem redistributing the goodness to someone else. And as for bad vibes/bad thoughts/bad attitudes - I've empowered myself to say "I'm outta here" when faced with it - why should I punish myself when I do not deserve it!