After looking back at 2012 and setting short term goals for January. There is the blog on the bigger 2013 goals left to right.
Main goal:

Stay healthy, courageous, and around goal weight (58kg-62kg)
To achieve that, I am simply going to continue what I have been doing and push myself further if possible in all three directions - fitness, nutrition, and personal growth.
Fitness:
1- Bild strength: Hopefully do 7 chin-ups, 7 dips and 25 pushups in a row next December :-)
2- Run a half marathon in Fall if the knee/hip pain allows it. (and 2-3 additional runs before it)
3- Reduce fat by 1% to under 24%
4- Flexibility through Yoga/Strechings
My right arm picture 12/31/2012
Nutrition:
1. Continue to work on moderation, especially when it comes to sugar/chocolate.
2. Keep up the good work regarding the balance between protein and carbs.
3. Get under 30% fat consumption daily.
4. Try to become independent nutrition wise and stop tracking food progressively (starting in spring)
Yes we can...eat healthy food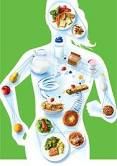 Personal Growth:
1- be a sunshine of positivity for all people around me (especially for my mother).
2- be more aggressive / promote myself better in my job. Find new challenges as a singer and be more confident about what I can. (Marketing, Management) - GO OUT DON'T HIDE!
I am a classical singer...
to end the blog with some funny numbers...
In 2012 I burned 85.000 calories through running according to spark. This is approximately 17 kg of chocolate... and I really hope I did not actually eat that much chocolate.
Have a great new year and I hope you will stay on track towards your goal for the entire year 2013! Consistency in the key!