Monday, December 31, 2012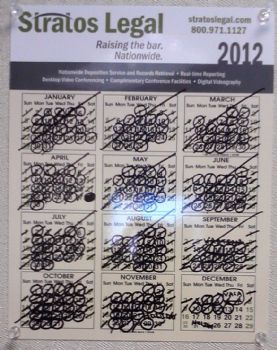 For those that don't know I plan on retiring April 2013 and I have been counting down the days. As you can see in the picture above!

Everytime I see it I think back to the old days on tv where they would show prisoners counting down the days on the wall, that is what I feel like here. It is time for me to say GOOD BYE but I cannot until April when I can get on Hubby's insurance b/c of my medical conditions I need to be continuously insured and I refuse to pay cobra $935.00 for even a few months. So, I have 4 more months to go here, and I will start another similar calendar like this one!

Don't get me wrong I am blessed and lucky to have a job but this job has been affecting my health more than you will ever know, that is when I knew it was time to go. Not to mention I gained 20 lbs in the since August due to stress here and my emotional eating. I finally realized I need to take care of myself for my husband, children and grandchildren.
So, here's to the new year and leaving the past behind.
HAPPY NEW YEAR MY SPARK BUDDIES.

maria