As we say goodbye to 2012, I've actually made some progress in weight loss this year--not a whole lot, but some, and that's better than what I've done the past several years.
I weighed 289 pounds on 01/01/2012, which is exactly what I weighed on 01/01/2011.
My highest weight EVER was 297.4 (round to 297). I first reached 5% off, getting to 282 in April of 2012, but it didn't stick. I spent the rest of the year trying to get back down to 282, and reached it again in the middle of December 2012.
Lots of factors during Christmas week led to a 6 pound gain, but 4 of those pounds are already off, and the last 2 should be off again shortly, which leaves me at 284 today, December 31st.
Averaging out a 5-7 pound loss over the year means I've only lost about a half-pound per month, or one-eighth pound per week.
This would be laughable for those who lose easily, but for me, it's progress.
It also means I'm not carrying around the equivalent of a five-pound bag of sugar strapped to me now, or "20 sticks of butter", as they'd say at Weight Watchers. That's progress.

The biggest thing that helped me this year was receiving the gift of a Fitbit Ultra from my sister at the end of July. I've been using my Fitbit ever since, and love it.
My husband wants to lose quite a bit of weight too, so I look forward to us getting healthier together in 2013.
I wish you all a very happy and healthy New Year!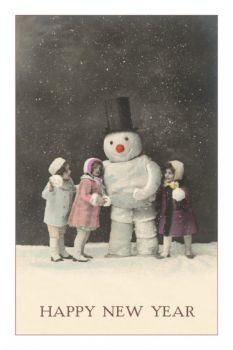 (Photo credit: http://www.allposters.com/-sp/
Happy-New-Year-Snowman-and
-Children-Posters_i6081820_.htm)