Monday, December 31, 2012
I know it doesn't look like much, but we had a lot of wall repair and that took longer than expected, plus the holidays took up a lot of time.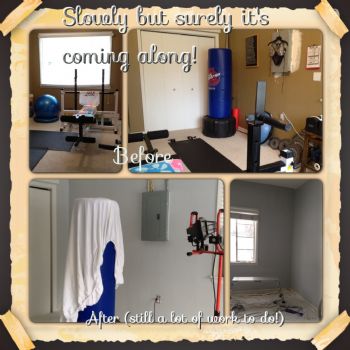 It's AMAZING what a change of color can do for a room! It was so dreary in this room before, now it's so bright! We're both pleased with the color and the way it's coming out. Today is coat number two for the walls and putting up the old ceiling light and fan that I gave some new life to. It was an old kind of a dirty bronze color with wood and wicker fan blades. I re-did the fan in a dark silver metal paint and then found a smooth side on the reverse side of the wicker blades and painted them a shiny silver. I think it turned out pretty good, saved some money! I'll take some pics once it's up, wish I would have took before pics of it. Our plan for the trim and doors is a nice bright white, and then any accents in the room like framing and extras will be silver.
The plan for tomorrow is I will finish painting the doors and trim while Hubs begins building the Cable Crossover machine! (hopefully we won't over do it too much tonight! LOL!) I'm so excited about this! After the trim and machine are built we should be able to move things back in and begin using the room even though it won't be quite finished. My husband is also building a cabinet that will cover the ugly electrical box on the wall, and house a dvd player and possibly a dvr box. My husband to my recent surprise has also purchased a new TV for the room and this will also be mounted on this cabinet. Not sure how, but he definitely has a plan and is very good at this kind of thing. He thinks he's also going build the frames for the Marilyn posters.
I know he started this project for me, but he's getting pretty pumped up about using the room. He asked me the other day if I would mind him fitting his spin bike in the room somehow. This isn't my most used piece of equipment, but how can I say no? LOL! So it looks like the bike is in and my boxing bag is going to find a new home in the next room. I think it will actually work out better.
So this is where we're at I continue to update as things progress!