Monday, December 31, 2012
My facial pics from the start of my warm up on November 15th through today.
November 15 – December 31, 2012 The "warm-up period" (6-weeks). Included in the warm up was to get used to implementing the following: tracking my food, drinking my water, working in fitness/exercises in my schedule, weighing and measuring myself and taking progress photos. Warm-up period is complete. Can you see the progress below? I pretty much maintained the same weight range.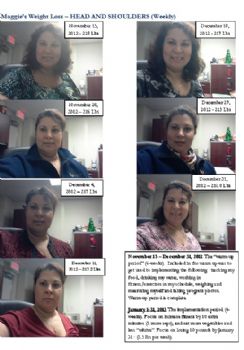 January 1-31, 2013 The implementation period (4-weeks). Focus on increase fitness by 10 extra minutes (2 more reps), and eat more vegetables and less "whites". Focus on losing 10 pounds by January 31st (2 lbs per week).