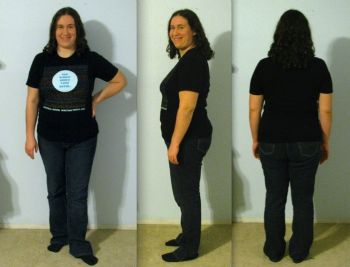 [This was me on the last day of 2011 - 186 lbs.]
This was a hard year for me - lots of stress, injury issues, and a plateau that I just could not figure out for the life of me! My goal for 2012 was to lose 31 lbs, bringing me to my first goal of 155 lbs (100 lbs lost, only one pound from a healthy BMI). I didn't make it, and as a very goal-oriented person, this is very, VERY frustrating for me.
At the same time, though, I HAVE to look at the positives, and the things I have achieved in 2012 despite all odds. No, I may not have gotten to where I wanted to be. I may not have gotten as far as I intended. But I would be wronging myself to say that my year was unsuccessful because of an arbitrary number on the scale. I have accomplished a lot this year, and so I have decided to celebrate my five greatest triumphs of 2012.

On the Scale: I started 2012 at 186 lbs - a single pound away from being overweight instead of obese. By the end of the first week in January, I was officially overweight. A couple pounds lost later, and I finally weighed less than my husband for the first time in several years, which was one of my big goals. By May, I broke through my biggest weight barrier. In all the years I struggled with my weight, I never saw the scale go below 177 lbs. I hit my pre-pregnancy weight of 175 lbs in May, and have proceeded to slide into numbers I haven't seen in almost a decade. I'm ending the year at 159 lbs. No, I didn't lose 31 lbs this year, but I lost 27 lbs, and that's pretty close. Given all I struggled with this year, I'll take it!

In Nutrition: At the end of 2011, I had just found the first vegetable that I've ever liked. I had just gotten to where I was no longer scared to try new fruits and vegetables, and where I could tolerate more than I couldn't eat. That was HUGE progress, but I was still only eating about three servings of freggies a day. Over the course of 2012, I have improved that, and now eat 5-7 servings a day on a regular basis. Two years ago, I almost never ate a fruit or vegetable. Now, I don't feel healthy if I'm not getting in enough servings regularly!

Battling Injury: I started 2012 struggling with an ankle injury that wouldn't go away no matter what I'd tried. I'd been battling it for the last four months of 2011, but even after taking 5 weeks off all exercise in November/December, it didn't go away. By March 2012, the pain moved from my ankle to my knee, and by June, my doctor discovered I had a stress fracture in my fibula that was so obvious on xray that I was told it had been around at least five months. A 10-week lower-body exercise ban followed, and then therapy. Despite all that, I still managed to get in at least 1000 fitness minutes every month except February (when I was sick with bronchitis all month, and even then I hit 931 minutes), and have exercised for a total of 15,591 minutes (almost 260 hrs) in 2012. Woohoo!

In Strength and Endurance: I started this year unable to run longer than a mile without stopping to walk, and unable to even hang from a pull-up bar for longer than a few seconds, much less pull myself up any. In March, I ran my first full 5K, and since then have improved my time by almost 10 full minutes, with a current personal best of 35:34. I've also done a lot of strength training this year, particularly to strengthen my upper body and back muscles, and while I can't quite do a full pull-up yet, I can lift myself until my mouth is level with the pull-up bar, and then slowly lower myself back down, with control. It won't be long before I can get my chin over the bar!

In Fortitude: This is the sort of year that makes or breaks a person. Seriously. Two major car accidents. Financial stress. Injury and exercise bans. Five months of major insomnia. The worst plateau imaginable. Many people would give up, but I didn't. There were months I didn't lose any weight at all, and when I did lose, it was usually only between 1.5 and 2 lbs. But I kept eating healthy, and I kept moving, and I kept fighting. I could have given up, and if I had, I would be ending this year still up around 186 lbs, if not higher. But I didn't. Maybe 27 lbs isn't a whole lot, but I am that much closer to my goal, and I have no regrets. I did everything I could, gave everything I could give, and while the results aren't perfect, they are better than they would be if I'd thrown up my hands and given up. This is real triumph - the triumph of continuing forward in the face of extreme adversity. It is a fight that I will continue in the new year. I won't give up, and one day - hopefully soon - I will reach my goals, even if it takes longer than I originally wanted it to.
[This is me on the last day of 2012 - 159 lbs, and please ignore that I still look ridiculously ill... Down 27 lbs and two pants sizes!]
Bring it on, 2013!!