Monday, December 31, 2012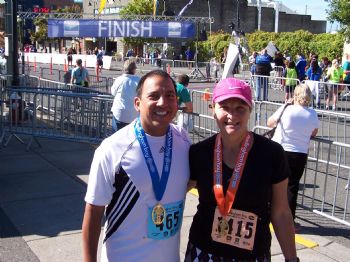 I began my fitness journey January 2010. The only real goal I had was to lose weight. I started exercising and really cutting back on my food, trying to make healthy, low cal choices. The weight slowly began to come off. I was introduced to sparkpeople and began setting other goals and receiving motivation and inspiration from other sparkpeople members. I read the book and realized that if I could do this, I could try/do other things too. I started running. I hated running. I slowly built up and triumphantly completed a 5k. I began running with a running group about 4 miles a few times a week. I decided to train for a half marathon. I ended up with a knee injury which took a long time to heal. Finally, in September 2012 I completed my half marathon. Never have I wanted to quit something so badly. The last mile, my knee was causing me so much pain, I just didn't think I could finish. But I did. That is a lesson I will take with me into 2013 and beyond. Sometimes you think you can't succeed, but keep one foot in front of the other and you will reach your goal!
My new goals for 2013 are to get to my goal of 158. I would like to broaden my exercise horizons and try kick boxing, yoga and learn some ab workouts. I tried paddle boarding for the first time in 2012 and loved it. I would like to continue to try new things. I especially want to become active on sparkpeople again and continue to track my food, exercise and blog steps in my journey.