Background .... My mom is a quilter, you know the kind that just makes you wish and dream to be half as good as that person. Well she has sewn for as long as I can remember. When the 5 of us kids were little she made a lot of our clothes. Yep she is that good. Well she taught me and I took that class in High School so I know what a needle is.
So last spring she wanted to go to a Quilt Museum that is in Paducah, KY, about 2 hour drive. She didn't want to go by herself and I wasn't busy so I went with her. When we went there was a big quilting show going on so anybody that had anything to do with quilting had a stand and was selling their stuff. Well I saw this little quilted purse that I liked, but wasn't about to pay the 40 bucks for an 8 by 10 purse made out of cloth. So I looked around here and found the pattern for it.
A then it sat for a few months. Then I bought some fabric for it. Then that sat too. Since Thanksgiving my knuckle on my left hand has been swollen and crocheting is out of the question, so I decided to make that little bag.
Yeah that little bag is big! Like 12 inches long by 10 inches wide and 2 and half inches thick. A whole lot bigger than what I thought. Guess I should of read the pattern. And speaking of which ....... When did they start using directions that make no sense what so ever? I quit trying to read them and just kind winged it. (which I'm good at.)
Well now that the bag is done I don't think that I like it. How about that? After months of thinking and wanting to make it I don't like it. So the next project I think will be a lap blanket. They're nice and easy.
the beginning ..... see how neat every thing is.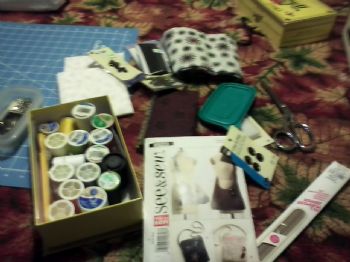 the machine ..... yes that is my kitchen table.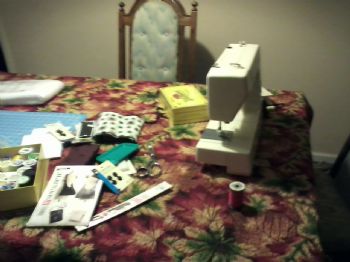 the bag!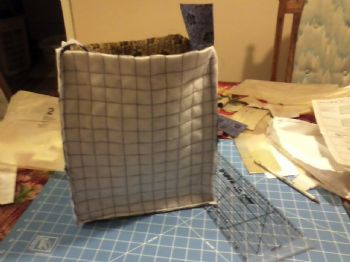 the inside pockets .... the direction didn't call for, and yes they are crooked.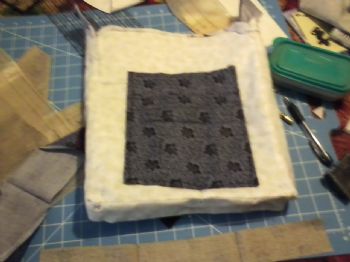 The outside pockets.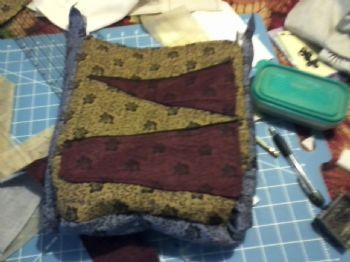 the other side. .... this side has the inside pockets on it.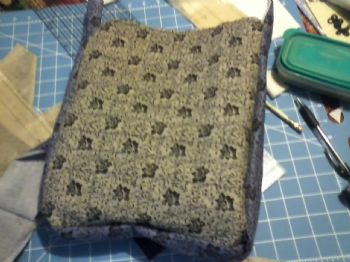 all done
and now the mess that needs to be cleaned up .... I hate that part.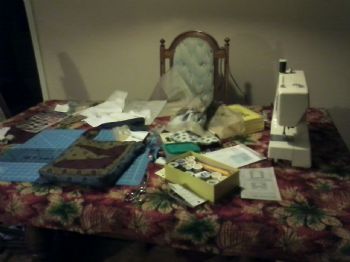 Hope everybody is having a wonderful Sunday!