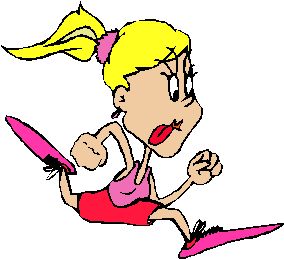 I originally started running in order to burn more calories than I was burning walking. Although this is still one of the reason's to continue running, I've discovered more.
For me, running seems to
1) Strengthen this body and mind.
2) Strengthen many body systems especially – respiratory, skeletal, muscular, and circulatory.
3) Strengthen mental toughness and sharpness.
4) Strengthen emotional well-being.
5) Gives me a sense of freedom and youth.
I also have come to the conclusion that you must coach yourself. All generic training plans can be adapted to your own strengths and weaknesses. Knowing what these are – from IT band issues to ego mania are essential.
With this in mind…. A good running plan promotes
1) Injury free running
2) Capacity for running development
After 2 and ˝ years of consistent running, I've adopted the following….
RUN-WALK-RUN:
I am a faster runner with walk breaks than I would be without. Walk breaks lessen fatigue and allow me to recover from both races and long runs very fast. Walk breaks enable me to maintain a consistent pace for 13 miles. I use walk breaks on all runs whether the run lasts 30 minutes or 3 hours.
VOLUME:
Average miles per week and the number of times running each week. In 2012 – 3X per week, almost always Mondays, Wednesdays, and Fridays. This last training cycle I have been averaging 20-22 miles per week. In 2013 I plan on adding a 4th day a week 2-3 times per month.
ENDURANCE TRAINING:
Pace is slow and easy. All slower than HM race pace. Distance varies, but as a half marathoner, long runs are usually anywhere from 10 – 15 miles depending on where I am in the current training cycle. Other easy or recovery runs may be anywhere from 3 – 7 miles.
STAMINA TRAINING:
A variety of runs fall into this category for me. They are 800s (intervals); Steady State Runs; Tempo-Threshold Runs. I am always aware of my goal race pace and structure all runs based on that pace. Interval pace is 30 seconds faster than goal race pace. Steady State Tempo Runs could fall into a range surrounding race pace, but could be a little faster or slower. These, for me, are 60 minutes of the run. I also will do faster tempo runs at about a 10K pace, but not for 60 minutes – closer to 25 right now. I may include 2 of these, for example: 1 easy mile; 2 miles at 10K pace; recovery interval; 2 miles at 10K pace; 1 easy mile.
SPEED and SPRINT TRAINING:
Honestly I do not do this very often, maybe just a couple weeks before the race I am training for. I will do 2-3 workouts with 200s - 400s – at a much faster pace than I am used to. For me, that would be close to a 5K race pace. For others it might be faster. You feel like you are running all out. I am unable to maintain this for very long.
PROGRESSION TRAINING:
I use progression runs for both the endurance and stamina runs. For example: On a long 13 mile run I will run the first 11 miles at a very slow easy pace, but run at race pace for the last 2 miles. Or for a tempo run, I may run an easy 2 miles, 2 miles at HM race pace, and then 2 miles at 10K race pace.
HILL INTERVALS:
I live in a flat Florida world. In the middle of an easy run I will stop at the local clubhouse and use the treadmill for hill repeats. I have a lot of room for improvement here as in every area of running. I currently am setting the incline at 6 and running 3 minutes straight, walking enough to let my heart rate recover and then repeat.
HEART RATE TRAINING:
In the warmer months of Florida's summer I concentrate more on Heart Rate intervals and training rather than pace. The information and methods I use for this can be found in HEART RATE TRAINING by Roy Benson.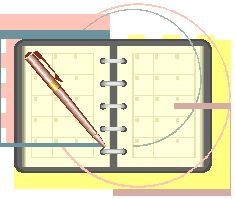 For now this is my plan…
Mondays – alternate every other week:
Long Slow Runs
800s
Wednesdays – alternate every other week
Easy Run or Easy Run with a Magic Mile
Easy Run with Hill Intervals
Friday's –alternating week to week
Tempo Run close to HM race pace
Tempo Run close to 10K race pace (might be a progression run)
200s or 400s (but not until the race is much closer) at a 3K or 5K pace
Saturday's – 2-3 times per month
Recovery or Easy Run…
Books I have read that have greatly influenced how I run.
Jeff Galloway's - RUNNING UNTIL YOU ARE 100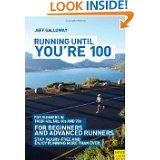 Jeff Galloway's - HALF MARATHON, YOU CAN DO IT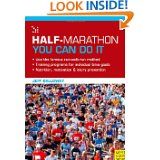 Roy Benson's - HEART RATE TRAINING
Brad Hudson's - RUN FASTER, From the 5K to the Marathon - How to be Your Own Best Coach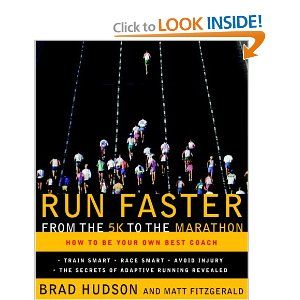 LIVE2RUN4LIFE for many of these book suggestions.
Hope to see many of you at the FINISH LINE in 2013!
Happy Running
SB