As each year nears an end, I always take some time to reflect on days gone by and what lies ahead. I have to say that 2012 was somewhat uneventful. I feel like it was an indifferent year. Nothing significant comes to mind. There may have been things noteworthy, but not enough for me to remember them. I think I'll keep better track of the year's most precious moments.
My underlying theme for 2012 was peacefulness. I got through that first year without my sister and have continued to work on healing and moving through my grief. Janet is always with me in my mind and in my heart, but I am accepting what is and no longer clinging to memories with gut-wrenching sadness of what is lost. I am living my life happily for me and for her.
Weight always seemed to take center stage most of the years of my life, but it was actually in the background for most of 2012. I dropped 20 lbs. earlier in the year and felt great, but sadly by autumn I had put it all back on plus more. The difference this year is that I didn't fret over it as much. I needed a break from thinking about my weight and I put it all on the shelf for several months, including not getting on the scale. I was able to let go of it, which is different than giving up. I knew I needed time to re-energize. I'm recharged now and ready to begin the new year with renewed enthusiasm and determination to reach my goal. I'm looking forward to it.
I stepped outside my comfort zone and began a home-based business last May. It started out great and then fizzled out after about 4 months. I have recently decided to discontinue it and feel fine about it. I give myself credit for trying something new. The whole experience allowed me to look upon my simple, uneventful life with gratitude. I realize that there's not much I need in the way of "things" and that I treasure having my days to myself and being able to go for a morning walk, sit and read for a few hours, sip on a cup of tea mid-afternoon, keep up with housecleaning, and sometimes just sit in silent meditation.
I went from a redhead to a natural silver during 2012. It was a positive experience in so many ways. I'm proud of myself for not only seeing it through but embracing my authentic self. I like me for who I am and am learning to accept my quirky imperfections. I can laugh at myself and certain situations where I used to feel awkward and self conscious.
In 2013 I will continue my quest for daily inner peace and living in the moment, as well as simplification and minimalism. It all ties together. My major theme for the year will simply be Happiness.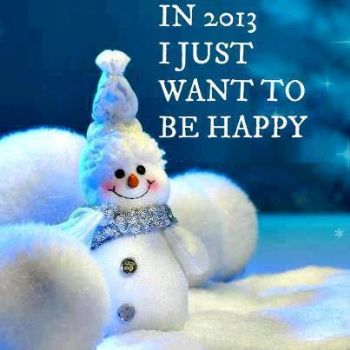 I've recently become a Pinterest fan. I enjoy making some boards that represent certain aspects of my life in picture format. It's very much like a vision board. To sum up my feelings about the coming year 2013, I will share some of my thoughts in pictures.
Happy New Year to all my friends. May 2013 be a year of many happy moments, the ultimate in good health & well-being, and an abundance of all your hearts' desires.