My Spark Crush and Secret Weight Loss
Saturday, December 29, 2012
First off, let me say that I am a somewhat embarrassed, ashamed, disappointed…whatever you want to call it…that I have been on SparkPeople nearly FIVE YEARS and about the only accomplishment (if you can call it that) is that I have managed not to gain. Apparently I have been in "maintenance". Yeah, that's right I have been "maintaining" in the 270 pound SEVERELY OBESE range.

Something FINALLY happened in November that has FINALLY turned my thinking around. I guess you could say it was the perfect SH1T storm for change (ah hah hah ah! Sorry, but that's ME. I DO swear). My son was on track and lost over 100 pounds and was looking and feeling great. My younger sister had done the same and then I learned that one of my older sisters was also on track and losing. I was so excited for them that I realized I did not want to be left behind. I wanted to go where they went. I was ready to take a hard look at myself and accept responsibility for my health.
Enter SNOWANGELDIVA.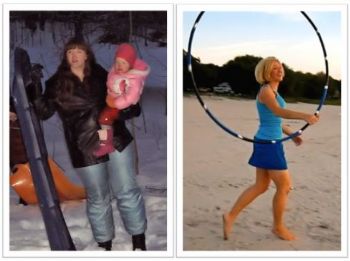 www.sparkpeople.com/mypa
ge.asp?id=SNOWANGELDIVA
I had been lurking for quite some time marveling at her success and delightful deadpan sense of humor. OK, I kinda had a "Spark Crush" on her. SHADDUP. It's not what you think. It's the "Oooh! She is so pretty and so together and smart and quirky and FUN! I wanna be like HER!" kind of crush. Anyway she starts up this team "Christmas Present From Me" Team challenging members to LOSE 5 pounds in the 5 weeks prior to Christmas, thereby "gifting" themselves with a 5 pound loss. Long story short – I lost a little over TEN POUNDS. During the holiday season. Unbelievable for me. Now, instead of feeling miserable, bloated and remorseful at the end of the year, I am excited and hopeful. And my jeans are looser.

There is no stopping me now. I have big dreams and big goals and I am going after them. I'm just not telling anyone outside of Sparkdom. I am just quietly working toward my goals and rewarding myself along the way with a bead for my bracelet for every 5 pounds as a visual cue to myself to keep reaching. I can't wait for the day when my hubby or anyone actually NOTICES my weight loss and makes a remark. That will be a milestone because it will be REAL and not a kind compliment because they know I am actively working on losing weight and are trying to be encouraging. Of course at my size, I will likely need to lose at least 30 pounds to make it REALLY noticeable, but that is OK. THIS time my weight loss is a SECRET because every other time I have announced it to the world others butted in and I felt resentful and judged. This is MY FIGHT and I can do it on my own. I do not need anyone suggesting all kinds of diets, pills, self-help books, etc. I KNOW what works for ME and I am doing it now.
Thanks for listening. I hope that we all have a wonderful, healthy 2013 with much love, laughter and success!