Thinking towards a new push ready for the New Year - and for those of you who are really serious about losing weight and changing your life to a healthier life – I guess you are thinking towards Goal Setting.
So often I see messages and comments that people won't make goals because they never meet them or they are afraid of being let down, or they set goals that are worded - I'll try, - instead of Firm definate motivational goals
Setting strong meaningful goals is at the heart of the Sparkpeople program yet seems to be the most difficult part of this journey for most people – but it is the most important part of the journey since without really strong goals that point the way, acting like the pieces of a jigsaw slowly being put together and reinforcing our motivation we only have wishes.
Sparkpeople describe Goal Setting as
Overall, your health goals should be:
Realistic: Start off with a goal that isn't too ambitious, so you can sooner experience the thrills of success. Build toward grander goals to keep your motivation high.
Specific: Make sure it can be measured and tracked.
Forgiving: Leave room for the "1 Step Back, 2 Steps Forward" principle to apply.
Crystal Clear: Find a photo depicting or symbolizing what you want. The clearer the point of the whole thing is, the easier it is to stay focused.
Valuable: Remind yourself why you want to succeed in the first place.
Challenging: What do you wish for? This is the goal that will hold your attention the most. There's no reason our wishes can't become our goals.
Rewarded: Every little bit of positive reinforcement helps.
Backed Up: Prepare for the unknown with contingency plans before problems come up. Have options waiting that will help you stay consistent in the face of the unexpected
If you click on the "Motivation" section found from the Orange toolbar at the top of your page – under Healthy Lifestyle drop down menu. You will find a whole section on Goal Setting articles and ideas.
But a method I like to use is actually a very common method -= The S.M.A.R.T method of goal setting. This actually has many similarities to the Sparkpeople ideas.
Goals should be:
• .- S = Specific
• M = Measurable
• A = Attainable
• R = Realistic
• T = Timely
S = Specific –
• WHAT are you going to do? Use action words such as direct, organize, coordinate, lead, develop, plan, build etc.
• WHY is this important to do at this time? What do you want to ultimately accomplish?
• HOW are you going to do it? (By…)
M = Measurable
• If you can't measure it, you can't manage it
• Establish concrete criteria for measuring progress toward the attainment of each goal you set. When you measure your progress, you stay on track, reach your target dates, and experience the exhilaration of achievement that spurs you on to continued effort required to reach your goals.
A = Attainable
• When you identify goals that are most important to you, you begin to figure out ways you can make them come true. You develop that attitudes, abilities, skills, and financial capacity to reach them.
• A goal needs to stretch you slightly so you feel you can do it and it will need a real commitment from you. For instance, if you aim to lose 20lbs in one week, we all know that isn't achievable. But setting a goal to loose 1lb and when you've achieved that, aiming to lose a further 1lb, will keep it achievable for you. =
R – Realistic
• This is not a synonym for "easy." Realistic, in this case, means "do-able." It means that the learning curve is not a vertical slope; that the skills needed to do the work are available; that the project fits with the overall strategy and goals of the organization. A realistic project may push the skills and knowledge of the people working on it but it shouldn't break them.
• Be sure to set goals that you can attain with some effort! Too difficult and you set the stage for failure, but too low sends the message that you aren't very capable.
• Set the bar high enough for a satisfying achievement!
T = Timely
• Set a timeframe for the goal: for next week, in three months, by fifth grade. Putting an end point on your goal gives you a clear target to work towards.
• If you don't set a time, the commitment is too vague. It tends not to happen because you feel you can start at any time. Without a time limit, there's no urgency to start taking action now.
• Time must be measurable, attainable and realistic.
So we go back to the jigsaw analogy
The Long term goals are the total picture - or where we want to get to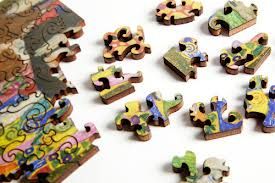 And the short term goals - these are the edge pieces, or the framework - the easy pieces to fit in place and medium term goals are the center pieces that take longer to figure out but are still necessary to the final picture – without all of the different goals – the whole picture won't emerge and unless all the goals are set so that they keep your motivation and keep you moving forward and therefore are strong goals that have a time limit so that you keep to them it is like not locking in a piece of that jigsaw so the total picture isn't complete.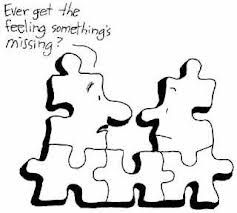 So this year – if you are one of the many who have trouble with goals or are afraid to set them because you don't meet them try this method.
These are my personal goals for 2013
Long term goal –
To lose 30Kg - 66lb by the end of 2013

Medium term Goals
To lose 8kg - 17.5lb by April
To save up for an Aria Scale by April as a reward and sync that to my program

To lose 15kg - 33lb by mid year (June)
To reward myself with a day trip to Brisbane

Medium to short term Goals:
To start a new weight loss plan – totally new to me – to shake things up a bit – start in Middle Jan. (it's a new program – start date not announced)
To ensure all my recording is correct and up to date, check measurements, targets, goals etc in Sparks – and that my FitBit is synced correctly with the new program
Once on the new program to lose 500g - 1.1lb a week

Short Term Goals
To exercise for 30 min 5 days a week – Curves 2 or 3 days, swim, chair exercise –
To do a minimum of 30 min a day movement - walking or aerobic exercise 7 days a week

To not sit at the computer longer than 1 hr at a time

To record everything I eat on the Sparks tracker and get the macro-nutrient balance right as well as the calories.

To weigh and measure ALL foods and portions
To drink at least 6 glasses water a day spaced through the day

To continue eating at least 6 serves of vegetable and 3 serves of fruit a day












I KNOW i can achieve these goals - because the last and maybe most important thing - is to THINK POSITIVE!!
If you want more detail - check out the Booklet on Goal Setting - go to
www.chairexercisefun.com
click on the "booklets" button on the right hand side of the page - then open the folder "Goal Setting"
You can read the booklet or download to your computer and/or print it.