I thought being nearly New Years Eve and a very important time for the Scots,I would show you part of my background ..
This a wee bit of my families history .
Clan MacGregor are a highland Scottish clan and have played their part in the history
of the country.
Being a rather powerful Clan at certain times in Scottish history,
they can be dated back to as far as the early 800's – over 1200 years of history.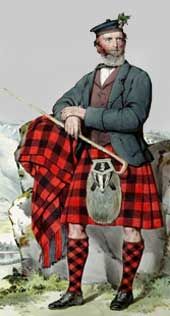 .This is the Mac Gregor Rob Roy Clan Gregor (also Griogair, MacGregor, Mac Gregor, McGregor, M'Gregor) is a Highland Scottish clan. It is considered the most senior clan of Siol Alpin, translated as 'Seed of Alpin', referring to King Kenneth I Mac Alpin), descending from the ancient Kings of the Picts and Dál Riata. Outlawed for nearly two hundred years after a long power struggle with the Clan Campbell, the Clan Gregor claims descent from Constantin and wife and cousin Malvina, first son of Doungallas and wife Spontana (daughter of a High King of Ireland) and grandson of Giric, the third son of Alpin II Mac Eochaidh, the father of Kenneth I Mac Alpin, the first King of Scotland, a descent which is proclaimed in the clan motto, 'S Rioghal Mo Dhream, translated as 'Royal is my Race'.
The clan have been horrifically persecuted over the years, initially they spread from
Loch Awe to Glen Lyon and down onto Loch Lomond but the Loch Awe end was pinched in between the Campbells and the Stewarts who were two powerful enemies.
Although the MacGregors accounted of themselves bravely at Bannockburn,for some reason in the mid 13th century Robert the Bruce gave their lands around loch Awe to Clan Campbell who forced the of MacGregors out of their homes causing them to withdraw into Glen Lyon.

This is our Motto
Some say the MacGregors were rustlers and thieves whether there was any truth
in this or whether circumstances forced this upon them or whether it was all a
smear campaign to politically undermine their reputation is not for me to judge
but they certainly paid the price.
The main castle linked with Clan MacGregor is Meggernie Castle. This castle is located just north of Loch Tay in central Scotland, it was built and belonged to the clan in the early days when the land on both sides of Glen Lyon was theirs. About 1380 King Robert 2nd ( a Stewart King ) gave this to his illegitimate son. Which resulted in the Clan MacGregor once more being pinched between Campbells and Stewarts. The end result being the dispersion of the Clan from their homelands.
This is our Arms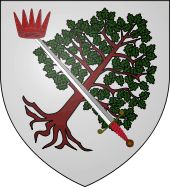 Kilchurn Castle on Loch Awe, a Campbell castle had MacGregors as keepers for around thirty years, in the late 1500's, until a feud resulted in the Campbells re-taking possession.
This is our Tartan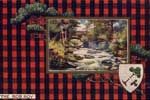 In 1603 King James 6th ( son of Mary Queen of Scots ) abolished the name MacGregor so all who bore it must renounce it or die. In 1603/04 the Clan Chief and 30 of his men were captured and hung outside St. Giles Kirk by the tollbooth.
Anyone answering to the name was executed on the spot with women and children sold into slavery in the American states.
Clan Campbell, with no love lost were more than happy to help enforce this and practically eradicated Clan MacGregor in the process as the remaining members fell on hardship during their outlaw period.
There are varying reasons given for the Proscription and to try to get behind it or even comment on is outside my remit. The Battle of Glen Fruin had a lot to do with it.
In 1671 Robert MacGregor was born although he had to assume his mother's name at that time. Sir Walter Scott was to immortalise him later as Rob Roy MacGregor.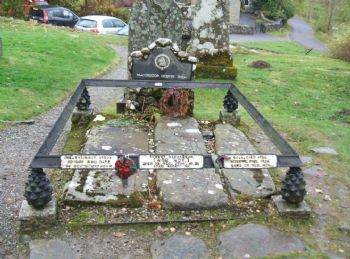 The Grave of the Mac Gregor and his son
In 1745 Doune Castle and the fortresses of Balloch and Inversnaid were taken and held in support of Bonnie Prince Charlie by Gregor MacGregor of Glengyle, a nephew of Rob Roy. They were held while Charles and the Jacobites invaded England and on their return north it was also used to house the prisoners after the Battle of Falkirk.
The Clan supported the Jacobite cause at Culloden.
Eventually the persecution against the clan was repealed in 1774.
Lanrick Castle was purchased by John Murray MacGregor, 18th Chief of Clan Gregor in 1776 and was to become the new clan seat until his son, Major-General Sir Evan MacGregor, 19th Chief of the Clan sold it in 1830. ( destroyed in 2002 all that remain are the entrances). He had acquired Edinchip estate by Lochearnhead in 1778 and started to build Edinchip house in 1830 which was to become the seat of succeeding Chiefs for the next 150 years until it was sold by Sir Gregor MacGregor, the 23rd Chief of Clan Gregor, who moved to Bannatyne, Newtyle, Angus.

.
I am posting a link to the meaning of Hogmanay for those of you that didn't know ..
Hugs Susie
www.firstfoot.com
And here is a link to the Mc Gregor if you wish to investigate furthur
www.rampantscotland.com/
clans/blclanmacgregor.htm