Today is my 21 month weight loss anniversary and as usual I take my monthly measurements and document my weight loss progress. Also because it is December, it's time for a year end recap of all of my progress or lack thereof.
This month is very different from other months as I CHOSE to enjoy the holiday fare and all that it entailed...which basically means I chose to eat Lindt chocolates, my homemade tamales, Walker's shortbread cookies(the big COSTCO tin!!), as well as drink Peppermint mochas from 7-11(at least a few times a week for the last few weeks). Not with reckless abandon but certainly more than I would choose normally if at all. I CHOSE to enjoy these things, knowing my time constraints would not allow me to exercise as I normally would and cold weather would probably curtail my running schedule(which is has). So, knowing all of that would result in a PROBABLE weight gain...I still CHOSE to indulge. All without regret, guilt or any other negative feelings many people would be stressed over. Now why would anybody CHOOSE that you ask?
I am a woman who has approached this whole weight loss journey from a different perspective(as told to me by others). I have not relied on motivation or will power or gimmicks, products, or even other people...nope, it's just been ME and CHOICE. I think many of us forget that we CAN choose, we fall into this victim mindset or an all or nothing mindset. It's as if we ate two pieces of candy and feel like our whole life is blown so we've "fallen off the wagon" and we give up...I continue to read blog after blog of people who say "I'm back", "I'm starting over", "Back in the saddle". All of these things are foreign to me because I now realize that I can't start over because I've never given up in the first place. Yes, there are good days and better days and not so good days but if we remember this is a lifestyle for the long haul there is really no reason to freak out over any of these "potholes" on the road to health.
I think the most important marker for me and anybody else on a weight loss or health journey is and should be progress over time...so as I reflect on my 12/11 to 12/12 progress I can only be happy because it does show I have made progress.
2011 to 2012 PROGRESS TOTALS:
12/28/11 to 12/28/12
Weight 213.6 to 180.8 = 32.8 POUNDS LOST
Inches = 19 INCHES LOST
*BREAKDOWN*
Arms 13 to 11 = 2 inches lost each
Waist 32 to 30 = 2 inches lost
Hips 49 to 44 = 5 inches lost
Thighs 28.5 to 24.5 = 4 inches lost each
These are my year to year photo results...and I call this progress!! yippee!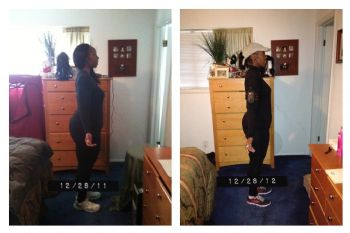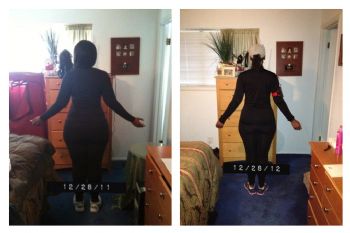 And this is the start of my journey 3/28/11 to now 12/28/12...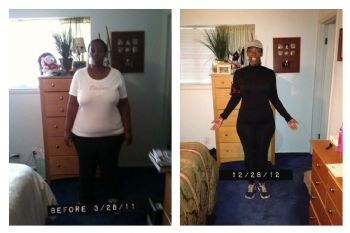 So now as my "holiday feasting" is coming to an end...I'll choose to continue to do the things that have netted me successful weightloss over the last 21 months. Watching what I eat, how much I eat and choosing to work my butt off exercising. I'm down to the last 20 pounds to loose and I'm giving myself til April 2013 to do it. I'll be going on a trip to Europe to see my son who is stationed in Aviano, Italy and while I am in Europe, I plan on enjoying everything without freaking out over my weight. I plan to see amazing places "on my feet" which means I'll plan to run and exercise but I'll also plan to INDULGE. I've got 1 life and I spent far to long letting my obesity stop me from living, now I realize I can choose to enjoy life but in a healthy, active ways!! My 2 cents for all of us on a journey is to consider a slightly different mindset if you're planning your "resolutions" for 2013...you don't have to wait until 1/1/13 to make a change, you can CHOOSE to change something in your life right now!! Losing this weight has been tone of BEST decision I have ever made!! HAPPY NEW YEAR SPARKIES!!