Okay, so my last blog I complained how my husband has destroyed my workout areas…well they're still destroyed! LOL! Christmas really slowed everything down (I understand) but finally progress is starting to take place. All of the wall repair is done, and were hoping to have all of the painting done this weekend!
I also mentioned in my last blog of a large box being delivered…well, it wasn't my Christmas gift. NOPE! When my Christmas gift was delivered a huge truck pulled up and my husband, son and the driver had to unload it! I was told I had to stay in the bedroom until they were done and could get everything covered!
So here it is! This is what I got! HOLY MOLY! A Cable Crossover Machine!! ARE YOU KIDDING ME!! I CAN'T BELIEVE THIS IS MINE! Ahhhhhh!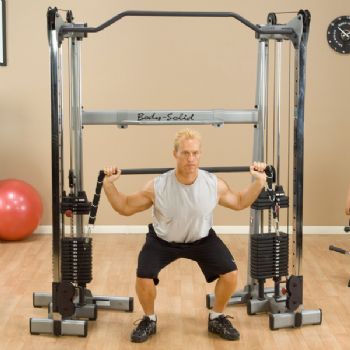 I'm feeling completely like a spoiled brat right now! I never in a million years would have expected such an extravagant gift! EVER! My husband got a GREAT Christmas bonus at work and knew immediately that this was something he wanted to get for both of us. My hubby told me that he knows how important changing my body is to me, how much I'd love to create the body of a fitness pro and that he feels a machine like this can help me to better reach my goals! He also said he believes it will help motivate him to get on the fitness wagon with me! Yippee! I am feeling so blessed! I hope I can find some way to let my husband know how grateful I am for him, and for everything he does!
I AM JUST BEYOND EXCITED RIGHT NOW! With all my other equipment that I've been collecting over the years, I literally have my own mini gym! Now we have to get this room done, the machine built, and everything back together so we can start using it and getting BUFF for the New Year! Did I mention that I'm soooo EXCITED!
I have to share another cool gift my Hubs got me for our new workout room. I LOVE Marilyn Monroe and I have always been a big fan. Well, she was way ahead of her time and knew the importance of weight training and physical fitness. There a series of different vintage pictures of Marilyn pumping iron, and I have always wanted them but didn't really have any place to put them. Well, hubby got them for me for Christmas! He said he thought they would be great for the new mini-gym! We just need to get them framed!
Here are 2 of the posters I got!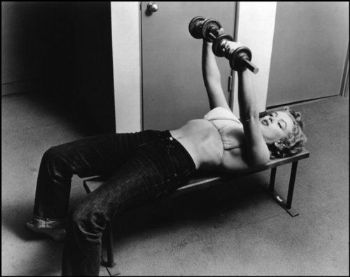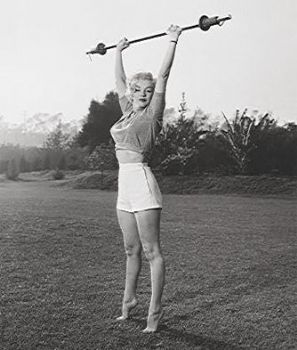 Last but not least, I also got some great new workout clothes and Mom and Dad got me a Fitbit and a new workout video! Actually, they bought me an Amazon gift card to order it because they had trouble trying to figure out how to get online and order one! LOL! I can't wait, it should be here in about a week!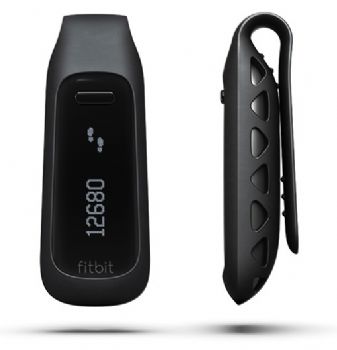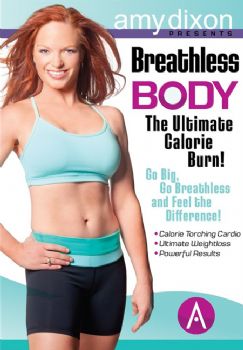 Well, 2012 is ending perfectly to set 2013 up as the start of the healthiest year of my life! I'm very excited to restart up my blogs, vlogs and progress pics once I'm able to get started up AGAIN!
I hope everyone had a wonderful Christmas! Let's get ready to GET LEAN in 2013!