Hello everybody!!!
I'm baaaack! We returned from our 7 weeks in South East Asia five days ago, and it's been a blur of holiday visiting since then. I've seen lots of family, but none of my friends yet, as they're mostly out of town doing their own holiday things. And there's the fact that we live in the suburbs now. That's going to be a big change in my lifestyle. I've some angst-ing to do. This is going to be a long one, folks. Feel free to fast-forward to the photos.
The trip was fabulous. For the few of you who know me in real life (also known as facebook), you've seen most of my photos. We started with five days in Hong Kong, spending time with one of my husband's good friends (tee hee, husband, it's still fun to say!) and his girlfriend, who kindly toured us all over town. We then flew to Bangkok and a few days later joined a month-long tour that travelled north up through Thailand, across into Laos and down the Mekong River to Luang Prabang and Vientiane, then flew over to Hanoi in Vietnam and visited Halong Bay, travelled down the Vietnamese coast through Hue, Hoi An, and down to Ho Chi Minh City (Saigon), then zipped through Cambodia stopping in Phnom Penh for some not-very-distant history and Siem Reap to visit its stunning temples. Then it was back to Bangkok where we said goodbye to the tour group and headed south to Thailand's Andaman Coast for some sunshine, luxurious resorts, and touristy little beach towns. We visited Ao Nang, Ko Lanta, Ko Phi Phi, and Kamala Beach on Phuket before heading back to Hong Kong and home. It was a long way!
I saw monkeys, rode a water buffalo, went kayaking and bicycling, rode an elephant, took overnight trains, swam in the warm ocean and various swimming pools, zoomed around in buses, vans, taxis, tuk-tuks, cyclos (bicycle taxis), cable cars and funiculars, took ferries, private boats, row boats, and longtails, and walked all over the place. I took cooking schools and helped Max choose a style for his overnight custom suit. I climbed the steps of temples over ten thousand years old and watched the sun rise over Angkor Wat. I was blessed by a monk in Chiang Mai, got up at the crack of dawn in a holy city to give alms to the orange robed monks in Laos, and rang the bells in a wat in Bangkok. I saw the water puppet show in Saigon, drank from coconuts on the beach, and set a lantern afloat down the river during the full moon festival. I danced at a native village celebration we stumbled upon for a newborn baby and drank sticky-rice liquor with the locals. I saw caves and hiked up mountains and shopped in crazy night markets and watched traditional dancing. I ate a lot of ice cream and drank a lot of mango smoothies. I drank iced coffees in five different countries, and they were all delicious. I travelled South East Asia!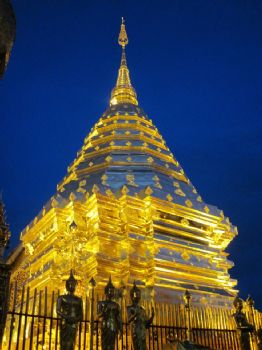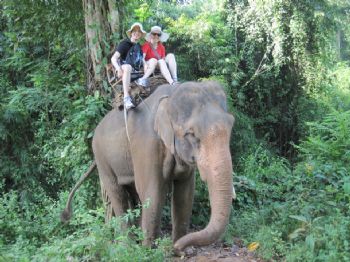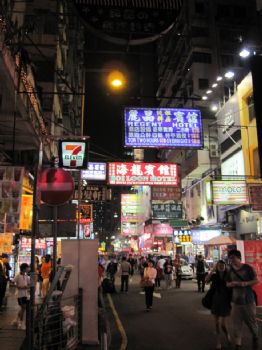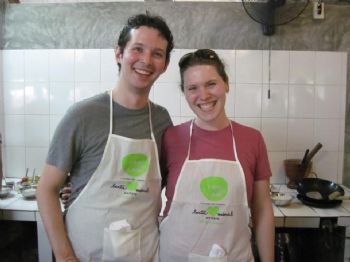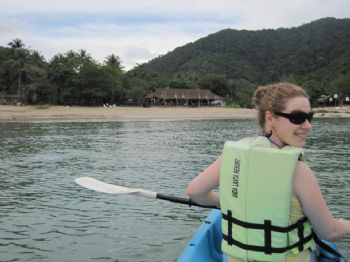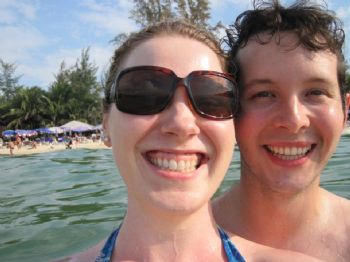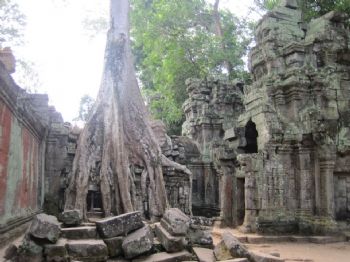 And now I am back.
It is... a big change.
Not just being back, but being here, in my new house. It's very different. I'm enjoying the house, and am very glad we have the holidays to get ourselves in order and de-jet-lagged before we go back to work (because boy am I ever jet-lagged), but it will take some time before I feel really settled, I think. Ever so slowly, we are getting the house cleaned up and unpacked. We have family commitments almost daily over the holidays, including two brunches, two huge family dinners, a two-night trip to visit my grandma, and then a two-night trip up to Whistler to party with some friends from university for New Years... then we're back to work. We have only one day that doesn't have plans, and that is today: which is over. I'm feeling pretty busy. Getting back to work, and into a schedule, will be a relief, I think.
However, that same schedule is something I'm a little worried about, because our new location in the suburbs requires a lot more commuting time than I'm used to, and I don't know when I'm going to fit in my Sparking, my running, my P90X-ing, my visiting with friends... it's going to be a very different lifestyle. I don't know how I'm going to fit everything in, or what I'm going to have to give up. I suppose it's just priorities, and we'll see how those play out.
No matter how the (Christmas) cookie crumbles, I am going to be back on Spark. I need it - the first half of the trip didn't seem to affect me weight-wise, although I could feel my fitness melting away. The last few weeks of the trip though... BAM. My travel pants got tight, my arms started feeling flabby... I'd been so overjoyed to get to wear JEANS again when I got home, and my favourites were too tight. I had to dig out a pair of 12's! Yes, they're loose in the waist, but still... I hadn't really expected to come home and have my clothes not fit. I'm not happy with that. The scale says 163, which isn't great, but isn't awful either... however it's an unfit 163, which doesn't look or feel good at all. It feels soft and squadgy and tired. It's dangerous too, feeling that disappointment with my body and dislike of my reflection when the house is full of Christmas cookies and we're constantly visiting family to eat, and I'm still so bloody exhausted all the time and can't sleep right because I'm about 9 hours ahead of what the clock says. It's tricky.
On the trip, I told myself, "Just wait until you get home, then you can sort things out." Now I'm feeling like I just need to wait until I have a routine, and things will fall back into place. I guess all I can do while I'm in limbo here is choose healthy snacks and try to stay away from the sugary treats, maybe get out for a walk when it's not raining. I'm looking forward to getting slowly back into running and lifting weights. I miss the way I felt before, when I was in shape. Until then, it's just one day, one step at a time. Water, lots of it. Sleep. Veggies - our fridge is stocked, which is fantastic. Getting organized and getting ready, so when my schedule allows it, I'm ready to go. I made good steps in that today: I brought most of my elliptical trainer over from my parents', and will bring the last bit (the heavy bit) over in the morning with my dad's and Max's help, and will set it up. I've got our little gym mostly organized in the basement, and should be able to start using it tomorrow! Now... where to begin... any tips and tricks from my friends? When I think of how many times I've coaxed and coached and encouraged, and here it's me starting from near-scratch! It's mind boggling and intimidating, and kind of exciting! :)