Thursday, December 27, 2012
Theres something about a new pair of running shoes that makes me uber excited to work out. Now, usually this feeling lasts like a day, but my goal this time around is to make working out a habit. So far this week Ive done pretty good, as long as I actually get up tomorrow and exercise I will have hit my goal of doing cardio at least three times a week for the first time in a long time.
But yeah. New shoes! Im pumped. When I got my first pair of official running shoes, I went to a running shoe store and felt like I wasnt taken seriously because I was overweight. I still am not sure if I was really treated different, or it was my own insecurities about my weight and people judging me in a place where I dont feel like I belong. So I bought the first pair the guy suggested to me just to get out of that store as quickly as possible. Well, needless to say the shoes were not the best pick, they were like tanks on my feet. So this time around, I did my research before hand and went in with pretty good knowledge, and found a great pair that I cant wait to try out tomorrow. HOPEFULLY they feel better!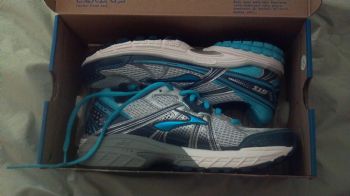 My new kicks!