Happy New Year!
Thursday, December 27, 2012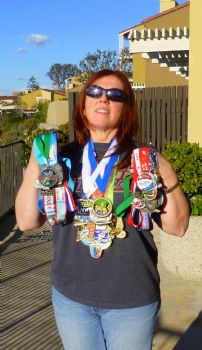 2012 was a great year for running!! Looking back, I can't believe that I finished 28 races: 8 Half Marathons, an 11K, a 10K, a 6K, 16 - 5Ks, and a progressive marathon (marathon miles are not all run on the same day). I got a few extra medals for finishing a series of races, the Beach Cities Challenge (3 Half Marathons) and the Quadruple Crown Challenge (4 - 5K's).
I learned a few things.
I can't run races on back to back days without pain.
I need more rest to be able to enjoy all of my races.
I don't like to stretch or lift weights, so I hired a trainer to help keep me on track.
I like to encourage others to run, and a few have started to drink the kool-aid. ;)
My goals for 2013 will include about 20 races and I intend to make an effort to lose some weight. Wish me luck.