Ha! Revenge is sweet! My mother loves to make a big deal out of how "huge" my arms are and how I couldn't possibly use a regular blood-pressure cuff--not true, the standard one fits me just fine. So today I measured--my very muscular arms are 12" around...and her flabby arms are 14"...so even though she has a much smaller frame size than I do (she's nearly a foot shorter than I am) my arms are actually SKINNIER! Ah, family...so much fun.
Now if I could just get her to lay off about my boobs. Apparently, large-chested women should never wear v-neck tops. I am very careful never to let her see me in a wrap dress. Really though, I think my boobs are most obvious when I wear a turtle or cowl neck…but whatever. The real issue may be that she is a B and I am a DD, but that only occurred to me recently. After 85 pounds of weight loss, my breasts are still the same size, so I'm not sure what I'm supposed to do about that. I am fairly conservative about clothes and do NOT dress in a skanky way at all…but I don't want to dress like a nun either, especially in clothes that are meant for going out.
In some ways, I think I have a pretty good body image for someone my size. Even when I weighed 300 pounds, I judged myself more by accomplishments and achievements than by the number on the scale. Growing up though, I was always convinced that I was hugely fat. I did get teased by other kids, but now I am wondering how much of this idea really came from my mother.
I look back at pictures of myself in elementary school and I see someone who is much taller than her peers, but I was never really overweight—not by more than a few pounds. I was athletic—I played team sports, swam, rode my bicycle everywhere. I was FINE the way I was.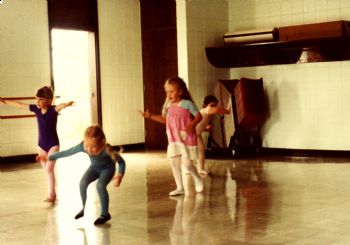 In that picture, I was four years old, as were the other girls in my ballet class. Sure, I am bigger, but even then my mother was trying to dress me to hide me. I see no reason why I couldn't just wear a leotard and tights to dance class like everybody else.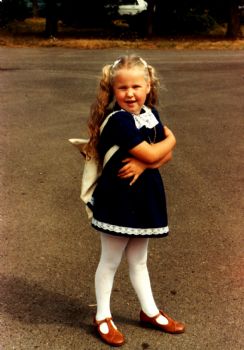 I like this picture better. I think that I was in first grade at this time. Self-esteem girl doesn't care what anybody thinks!
Does anybody else have similar issues?