I have a plaque on my wall with those words--from the song by Paul McCartney & Wings--one of my favorite Christmas songs. And I really did simply have a wonderful Christmas Time--and I still am!
The kids got here Christmas day, starting about 4:30. Chris, my youngest made it about 5, after being gone for Christmas Eve. So many people "lay-off" over Christmas, those who work, are not given much rest time. According to the rules, they get 8 hours to rest, and that's about all Chris got. He got called back to work this morning about 5 a.m. But it was great to have the whole family together. Middle son was with his in-laws, they had an early dinner at a Chinese buffet at 4, and then they came out to our house for our gift exchange. I made Christmas dinner for the two sons who were here, and of course my daughter-in-law, two gorgeous grandchildren and hubby!
We had a delicious dinner, I made much too much as usual, but sent home leftovers with daughter-in-law, so they won't tempt me today quite as much! Then the gift-opening began. Isn't it the most joyous time of the season? I wish it wouldn't get over so quickly--even though we take turns opening gifts to stretch it out--it's over much too fast. My grandkids didn't disappoint--their reactions were wonderful, and I loved watching them. They are definitely the best part of my Christmas now!
After the gifts, we did our stockings. Everyone helps with stuffing the stockings now. I got a couple of t-shirts (one with a picture of my "little princesses", the granddaughters in their Halloween Princess costumes), and a Husker Volleyball t-shirt, so I was very happy. Of course, I also got some small bottles of perfume, and some sugarless candy. I bought myself some sour cherry balls (not sugarless) and put them in my own stocking. I love those little sour balls of sweetness. I had a few, then sent them home with my son, because I knew I would eat them all if I kept them.
Today is hard as I knew it would be. It seemed that I got progressively looser yesterday--allowing myself more and more of the junk that was sitting around to eat. And it was the junk that was most tempting. I did really well at meals, but that junk---was always my weak point. And as the day wore on, I started thinking, "Tomorrow I have to quit this indiscriminate eating, so I better GORGE now." Does this battle ever end? I know the answer to my question--NO! It's never-ending, but I also know how much I have gained from losing this weight, so I'm UP for the challenge of fighting the battle every single moment of my life! Sparkers who read my blog shouldn't think it gets any easier when you hit your goal weight. It's a battle you will fight for the rest of your life.
And of course today I want to keep eating like I did yesterday. It's that sugar thing more than anything I think. Hopefully once it is out of my system, the cravings will subside some. I think my biggest challenge is going back to my good eating habits, after slipping off for a day and a half. It's always been my fear that once I slip, I won't be able to stop, so in the past, even on holidays I was very, very careful, but not this year. Well I won't say I went absolutely crazy, because I always restrained myself a little bit. I had a piece of cherry pie (I made it with the cherries that have been in the freezer since August. We got them at the apple orchard in Nebraska City on our way back from a family reunion), but I had half a piece, 1/12 of the pie. I'm sure it was hundreds of calories, but it was really good. I've been looking forward to that cherry pie since August, but now I won't have anymore--I promise.
(I'm just now listening to Valerie Bertinelli, who is on the Today Show with Kathie Lee and Hoda (my new favorite show), and she is talking about how maintenance is a struggle. Isn't Valerie gorgeous? I love her!) I hope I am an inspiration to others as Valerie is to me. But I think it's important to know from maintainers that the battle is NOT ever over, and that everyone of us struggles. Valerie said she has good days and she has bad days. Me too, Valerie, me too!!
Hubby has got my back. He helps me when I'm trying to fight temptation. It's a fine line, I could resent it very easily. But I have decided to embrace his help and accept it, because I know how much I need it. He got me the Pandora bracelet I had asked for, with a Statue of Liberty charm to remember our time in NYC. I love it!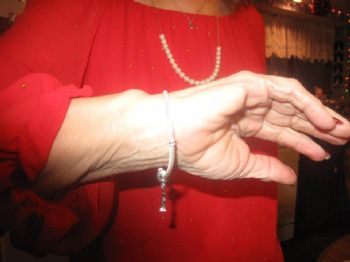 Gosh, I even have excess skin on my lower arms! Ignore that please, isn't the bracelet pretty???
It was a beautiful Christmas! It's my favorite holiday, I love the music, the decorations (my house looks like Santa threw up in here!), I used to love the food, I still do, but I don't do any baking these days, and I love the family togetherness this time of year. Christmas just gives you a feeling that you can't replicate any other time of the year and I relish it each and every year. I simply had a wonderful Christmas time!!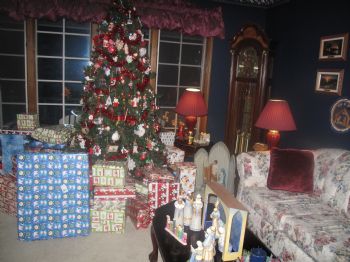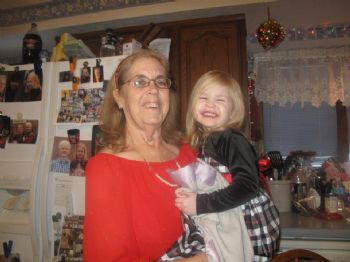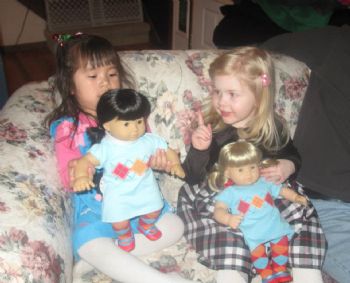 My "princesses" with their American Girl twin dolls I got for them. Those little girls truly are 'best friends' and cousins!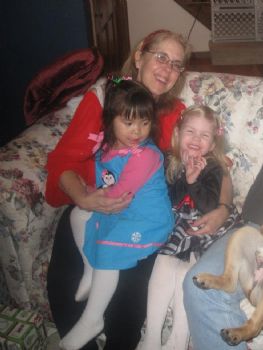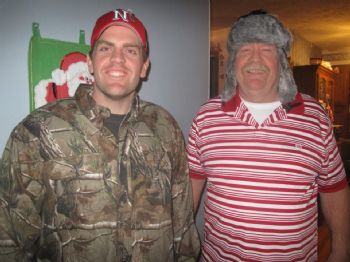 This is hilarious--Hubby got three "Cousin Eddie" (from Christmas Vacation) hats in his stocking, one from each of his sons. He loves them all!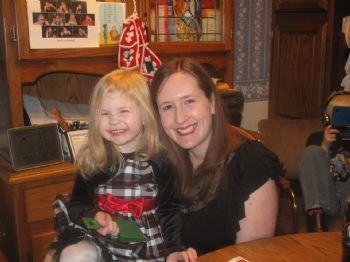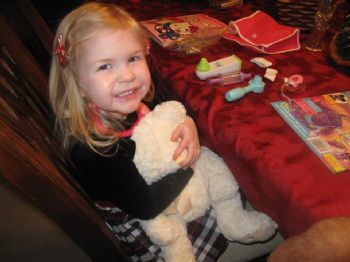 I got Amber the Velveteen Rabbit book and then found this Rabbit at FAO Swartz when we were in NYC. I wanted to keep it, but I knew Amber would give it a good home!