"Interesting" Christmas Day!!
Tuesday, December 25, 2012
Firstly -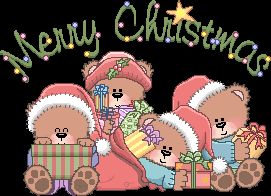 to all of you still celebrating Christmas. Here it is Boxing Day already!!
We had a calm quiet Christmas between the pool and watching Carols by Candlelight while having lunch - some Turkey breast and salad. It was hot and steamy here - though not as hot as some areas of Australia I think!!
All day we had been watching smoke from a bushfire that wasn't near - the other side of the main road and going away from us. It was causing chaos by closing the main road and many people were trying to get home after a day at the beach!!
We were winding down by 6pm - when chaos broke lose - the bush fire had changed direction and was heading our way fast - having jumped the main road - we had to prepare to evacuate!!
So we throw some essentials in the car - its really hard to think of what is needed under pressure - and waited!!
By now we could see flames high in the sky as trees caught fire!!
Anyway the wind eased as night fell and though we were on alert all night we are still in the house.
The latest news is that the fire is about 3/4 mile away through the very dry bush - but we have to hope that as the breeze gets up today it will get up away from us!!
All this from carelessness and thoughtlessness - it started from a cigarette thrown from a car - and the grass is so very dry at present as we haven't had rain for ages!!
Meanwhile - I am off for a swim - after all - the pool has to be safe in a fire - I hope!! LOL!!