Well, the world did not end on Friday, but my car died; I think the Mayans had something to do with putting the computer system in it, lol! I went to move it for the plow that morning, and it would not start. Can't get it to jump start either, so I am pretty sure the problem is electrical or the computer system. I will have to have it towed to the dealership to get it repaired, but I will wait and have that done after Christmas.
It could have been worse; at least the car was at home when it happened and I was not stranded somewhere. And we didn't have that much snow; it's not plowed in so much that it can't be gotten out.
We had our family Christmas last night; it was very nice; got a lot of nice gifts, including a lot of yarn, and one gift that will be late that my mom ordered for me, a hand cranked knitting machine! I can't wait til I can try it out! I should be able to make many things on it that I can't do on the Knifty Knitter looms.
I was very tired when I got home last night; as much as I enjoyed my family it was nice to be back home in bed, in my pjs, with my two kitties snuggled up besides me. But at least I have this week off from chemo, so I have a chance to build up my energy a bit.
I went to church this morning too, very nice service today. Did a chair workout after I got home. Going to relax with what is left of this day but first I need to sort out all my gifts I received yesterday and get them put away.
Now that my gifts have all been given out, I can share pics of a couple of things I made. I could not show you earlier because some of the people I was giving them too sometimes read my blog.
These are counted cross stitch book marks.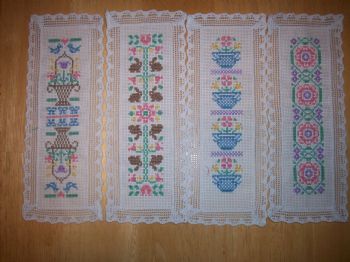 These are catnip gingerbread men toys. The heads turned out kind of funny looking but I don't think the kitties care, lol!