*****a night of NSV's!!!*****
Friday, December 21, 2012
I know this is my second blog of the day but I am on a bit of a high after a few NSVs tonight. I ran to the mall after work to pick up a dress and shirt and tie for Derrell; we have family pictures on Monday. Earlier that day I was getting frustrated because my size 14W from Torrid kept sliding down my backside even though I had on a belt. They werent crazy loose, just annoyingly loose. So when I go to the mall I stop at JCPenneys and just start looking around their Misses section. I haven't shopped Misses since I was in 7th grade. I get a bit of guts and grab 3 dresses to try on in a 16 Misses. The first one fit! The second one was a lace structured number which DID NOT fit. The third one was great! I felt so good. Here is the winning dress. Please pay no attention to the hair- it was a long day.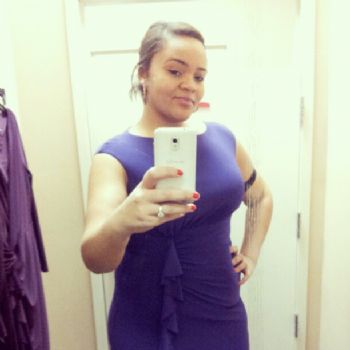 I bought the dress and went on a hunt to find Derrell's stuff. I end up running into two different people that I have not seen in years. Their reaction to seeing me was

! One girl I grew up with in church. When we ran into each other at Old Navy she looked shocked and then so happy for me. Right after that I run into a girl I worked with a year ago and she looked at me and gasped, "you look amazing!" I feel so good!!!!