On December 8th, 2012 I was invited to train with the gorgeous Figure star, Nicole Wilkins at Gridiron Training in Woburn, MA. I had the opportunity to interview Nicole so we could open up about the life of a figure competitor. Nicole is a two time Figure Olympia Champion, a three time IFBB Figure International Champion and a sponsored Met-RX athlete.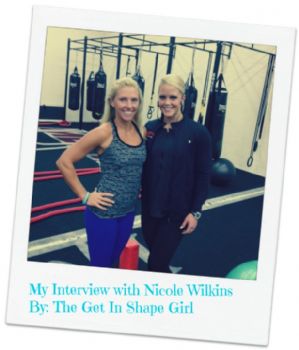 Nicole shares her training and eating plans with us along with her favorite Christmas gifts and sports teams! I hope you enjoy
You have clearly worked really hard to get to where you are with your physique. What types of cardio are you doing to maintain the amount of muscle mass you have on your body?
Thank you!
I do HIIT 2-3x per week and then a mix of steady state and interval training the other 2-3 days. As long as you are eating enough food to compensate for the amount of training you are doing, you can still gain and sustain the lean muscle tissue. I prefer short bouts of high intensity intervals at the track, stairs outside or bleachers to mix things up.
What is a typical day of eating for you when you are not specifically gearing up for a show?
I eat 6 meals a day every 2-3hrs with a lean protein source at each meal. Roughly taking in 1g protein per lb of body weight. I cycle my carbs. On higher carb days, my fats are lower and on lower carb days, my fats are higher. I try to have higher carb days when training my weaker body parts. I rarely eat processed foods, but always have to be aware of my portions. I have a pretty big appetite
What advice do you have for women who are considering doing their first show (bikini, figure or bodybuilding) in 2013?
Attend a show first before deciding to compete in one. It is important to understand what you are getting yourself in to as well as learn what the judges are looking for and who is being rewarded. Do your research and I would definitely recommend enlisting in a coach- someone who has been through it to guide you along the way. There is a lot to know and learn and it can be very difficult on your own.
What advice do you have for women who have just done their first show, to be able to go back to healthy living, without having a bounce back or any negative repercussions?
In my experiences, those who have bad rebounds are those who are very extreme during the contest prep and binge afterwards. Post show, enjoy a treat or two without going overboard and then go right back to clean eating. Donít quit going to the gym or stop training. Utilize the treats as fuel your first week back. Prep your meals like you did before, still eat every few hours, watch your portions and immediately have another goal in mind. Donít throw months of hard work away in a matter of daysÖ.pizza didnít get you lean for the show, so it wonít keep you lean in the offseason! Everything in moderation!
Do you have any mantras for any of the more difficult times you go through while preparing for a show?
Working out has always been an outlet for me when I am happy, sad, stressed, etc. It is something that I can always rely on and I know it makes me feel good. I know that when I prep for a show it isnít going to be perfect everyday. That is why it is so challenging and that is why I enjoy it so much. It teaches me discipline and shows me that with hard work, anything is possible. Difficult times will comeÖ.it is part of life, but I will never stop doing what I love when those difficult times come, because for me it just makes the situation much worse.
What is your favorite gift you have ever given or received?
It is so hard to pick a favorite! My favorite gifts given and received are those that are hand made or thoughtfully put together, like a personalized calendar or an engraved jewelry box.
Whatís your favorite sports team?
Anything Detroit!! Pistons, Tigers, Red Wings and yesÖthe Lions
Kyra,
The Get In Shape Girl