My sweet, wonderful, loving husband really treated me like a queen this Christmas season. He did a "12 days of Christmas" theme and had something planned for me each night for 12 days. Some of the things he did included, taking me to a local park with a lovely pond where we fed Canadian geese, one of my favorite activities; smores over a firepit in our backyard; driving around town to look at Christmas lights; sharing childhood memories over a cold glass of eggnog; a trip to the drive-in movie theater; a night at an old little chapel to discuss future plans for how we would like to get involved in the community; start building a puzzle together; took me to the park where we got engaged, etc. This only names a FEW of the things he did for me!
Last night, he took me to my favorite restaurant in the whole world, Red Lobster. I was sure I would fail in making my selection of food, because I'm such a sucker for their coconut shrimp, all their fried selections, etc. However, both of us made wise choices! I didn't know it was possible for me to exercise enough self control to eat grilled and green stuff at my favorite restaurant, but I did it!

I took a picture for Spark evidence!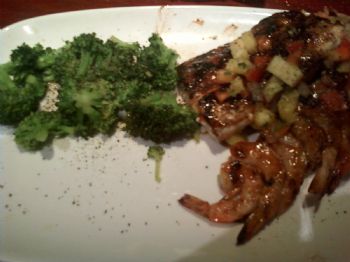 After our wonderful dinner, we came home, took a couple of quick pictures and then opened our gifts together. We have had a tradition of doing this since we were dating. We have our Christmas together before we go see family. We see it as easier to not haul all those gifts 5.5 hours away from home, just to have to lug them back a few days later. So, we do our little romantic dinner out and open our gifts to each other. It's so special! He got me the best gifts too! He got me a couple of things from my childhood: an old Christmas CD that I haven't been able to find, and a copy of L. Frank Baum's "The Wonderful Wizard of Oz."

. For my athletic endeavors, he got me some nice neoprene socks for my swimming classes, and some new gloves to wear for bike riding and weight lifting--they are pink!

For me to relax, he got me a massage certificate and a home foot spa tub to soothe my achy feet. He's so dreamy and caring!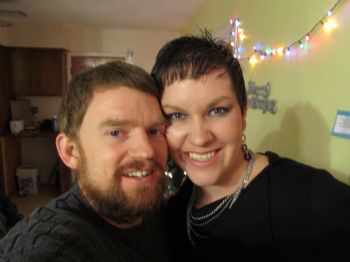 I hope all of you have a wonderful, bright, and blessed Christmas! I won't be on here for a few days because I don't ever have the opportunity to be online when I'm at the inlaws' home. Only a few more days of holiday treat temptations, but guess what?!