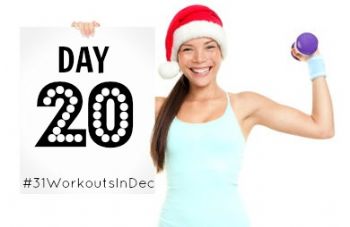 On
my Facebook page
, I started a little goal for myself (and my followers) to complete 31 workouts this month. I'm still going strong and on track to reach that goal and a lot of people have joined in the challenge, too! WooHOO!
Today I completed my Day 20 workout. It didn't turn out the way I expected it would, as seen in
this video update I posted on Facebook
. (Note: You don't need a facebook account to access my public posts, but if you watch, the rest of this blog will probably make more sense. Are you going to watch now? Ok, go. I'll wait.)
Post-video watchers, read on...
40 degrees, soaking wet, a mile from home...it was a GOOD moment. There were a lot of things I wanted to convey in that video that I forgot to mention until it was finished, so I thought I'd follow up with a few of them here.
Conditions Will Never Be Perfect
Anytime I think of skipping a run due to bad weather, I remember what a friend said to me once about a year or more ago. We were trying to plan a training run together and I didn't want to go in the rain. He said to me, "What if it rains on race day?" I had never thought of it that way before, and I have never missed a run due to weather conditions since. I just always ask myself that question. It has never failed to motivate me. It reminds me that you can't wait for the perfect conditions to run, to lose weight, to change your life--you just have to take what comes and go for it. Things will never be perfect. If you wait for that, you'll spend your whole life waiting.
You Are An Athlete
There's also something about running in rain, snow, heat, etc. that makes me feel really strong and powerful, like I'm doing something a lot of people would never attempt. I like to imagine myself as some hard core athlete, even though I'm not really anything near that. I have this running shirt I adore and sometimes I wear it when the weather is bad just as a motivator: Run, Snow, Sleet, Wind...Brave the Run. Powerful!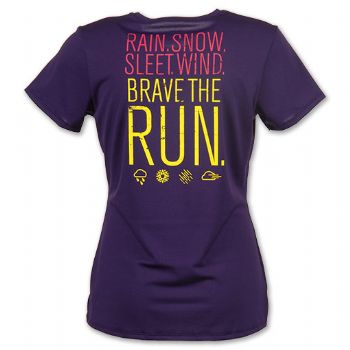 Choose Your Own Attitude
When it first started raining, I wasn't digging it. But I knew I wanted to reach my goal for the day. Sure, I could think negatively about it (it's cold, I'm wet, this is uncomfortable), but I have control over my thoughts and I can choose to think positively. And really, what's a little water going to do to you anyway? I try to see it as fun, like a kid playing in rain puddles. You can view that downpour as a bad thing or you can look for a silver lining.
Don't Make Excuses--Look for REASONS
You can let almost anything become an excuse to stop, start over or give up. Or you can look for reasons to keep going. What are your reasons?
Day 20 of 31 workouts = success!
Deep Thoughts with Coach Nicole...signing off. ;-)