Wednesday, December 12, 2012
Pinch me, I must be dreaming!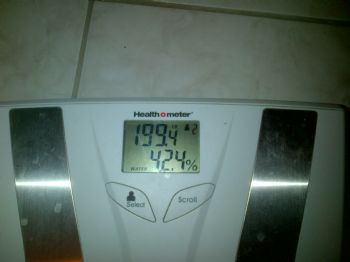 Much to my chagrin, I am below 200 for the first time in 5 years! Since October 28 I was hovering only .9-2 lbs away from this victory.
During that time, I have gone on 4 hr walks, 10 km bike rides, gradually increased elliptical level and minutes, dropped lower on my Nutrition plan, etc.
I don't know what kept me in that range for so long but I am looking forward to getting well below the number on the scale today to stay in the ONEderland range!
I know that I put a great deal of effort both in my Nutrition and my Fitness to accomplish this.
With 113.6 lost, I am extremely happy with my efforts. I took a break on Thanksgiving with my Nutrition. I was quite frustrated with the standstill in numbers. I had tried since October to beat the numbers without success.
I am planning on another 39.4 lbs to lose and I know it won't be easy. I am ready to fight to get there.
Here is to your success as we conquer the demons!