My New Kettlebells are now here :)
Wednesday, December 12, 2012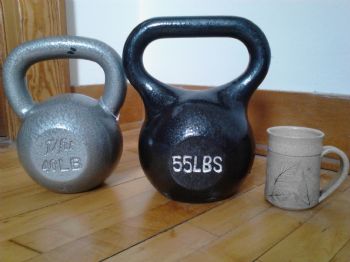 My vacation workout with Kevin (Mobycarp) really drove it home and confirmed that I needed indeed to increase the weight I was using during my Kettlebell workouts. I had ordered two different sizes, 40 and 55 lbs. When the 40 came in, I felt like a kid at Christmas. I promptly began using it with great success, the increase felt right. My 55 got somehow lost in the shuffle and the shipper resent another one and it arrived yesterday. Weird how a guy can get excited over a chunk of iron but it isn't the iron, it's what the iron can do for me. The heavier Kettlebell represents serious progress on my part as well as promises for much greater strength for the future. When I first started, I could just manage a workout with a 20 pounder and it would leave me sore but i kept after it and graduated to a 25 and got much better in my routine and form.
Then after I officially started and had several intense weeks under my belt, I have seen some very serious progress. I was never able to do alternating hammer curls with my 35lb dumbbells for multiple sets, I could maybe squeeze off a couple of reps before having to put it down. it was always extremely heavy for me. I typically would use a 20. Now, i can bang them out at will for several sets of 10. Yesterday I did several "Farmers Walks" with 100lbs, talk about a reminder of accomplishment. It felt good to put the weight down rather than having to live with it.
Today's workout with Mario was a killer, it left me with a shaky feeling after it was all done. I left it all in the gym.
Interval #1
40lb KB clean and jerks 10x3
1 minute high intensity jump roping x3
1 stair run with 95lbs
Interval #2
Sumo Squats with 55lb KB 15X3
30 sec mountain climbers x3
Interval #3
Tricep extensions x3
Curls x3
Pulldowns x3
Bosu planks 30 sec x3
I left a trail of sweat everywhere I went and was completely wiped out when it was all over.
Tomorrow is a rest day then back at it friday.