I lost 4 pounds this week!!!
I weighed in on Wednesday at 154.2. Until the next 5% Challenge starts, I'm going to make Tuesdays my weigh-in. I did weigh myself almost every day, so I knew it was coming off, and I was shooting for 151.6, so I was really happy to see 150.2 on the scale today!
As short as I am, though, you can't tell in the picture...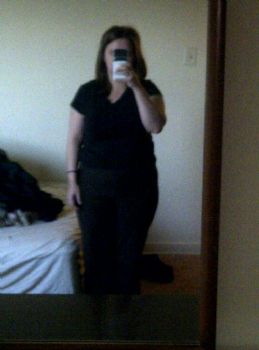 But the point of the picture isn't to show off. It's to increase my accountability.
I haven't been as good as I should have been with the rules we set. There have been days when I haven't exercised 10 minutes. There have been several days when I didn't get 10 cups of water. But I did check in with Kristen virtually every day and I did eat a salad every single day.
Most importantly, I think, I didn't bring any junk into the house. All my food is fresh produce, a bag of frozen peas, a little meat, eggs, milk, a little cereal, some canned beans and tuna, a little pasta, cheese, various condiments and seasoning. And if it's not here, I can't eat it. Because I reeeeeeally don't want to waste food, I haven't been going out, either, because I don't want to eat meals outside and then let the food spoil.
Although, I think I'm ready to venture out and try trivia. I will ask a coworker or two if they want to go, but if not, then I'll go by myself and see how it is. I'll order a salad there. And maybe one light beer.