It's been a while, i know. I have thought about making a blog, but when not many people read it, its kind of hard to want to. But alas, I will. I'm sure one person will read this :)
So, whats new. Remember way back in January I told you all that I was making it a resolution to buy toys and give them away for Christmas? Yup, that so happened. After the year had pasted, we had 57 toys total. May not seem like alot, but man, it filled up my brothers SUV fast!! We took them to our local news network, for they "Drive By Toy Drive". All the toys went to Christmas Anonymous, which is the most popular charity we having during christmas. Over 1000 children were registered to get gifts. Here are some pics, of course the kids had to help!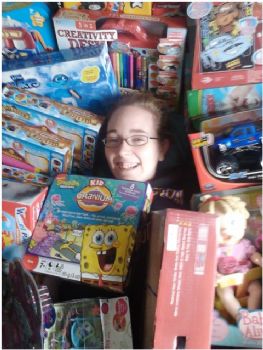 Me covered in presents.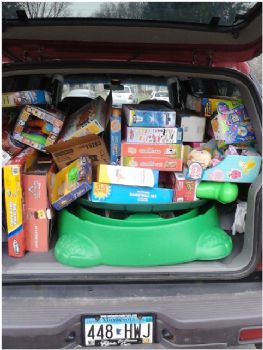 Filling the SUV! Sadly, we filled the back and i still had to put some in my lap.
Caleb helping.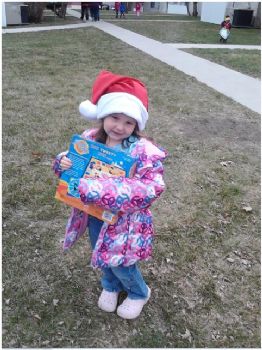 Mya helping.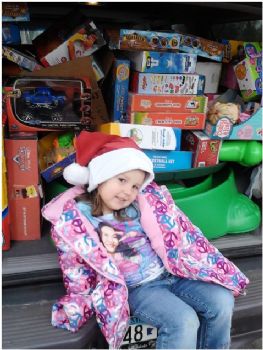 My little model.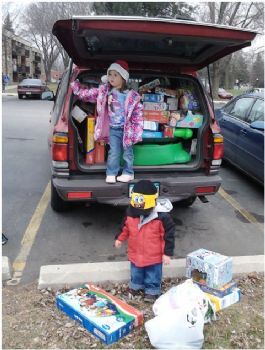 Filling is done!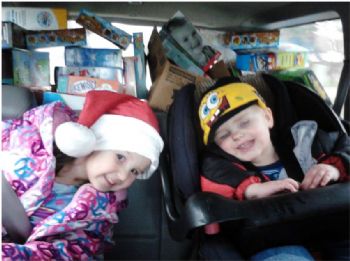 Ignore Caleb's weird face. :)
When we got to dropping them off, the newscrew was shocked! LOL it really does look like alot. Naturally, my brother wanted to me on TV and his wish came true. He kinda took credit for all my work, at first I was made, but I have gotten over it. Here is the news article linked to it, my brother is Thomas, the one with the goofy Vikings hat.
http://www.kttc.com/story/20
235202/2012/12/01/hundreds
-of-cars-at-kttc-drive-by-
toy-drive
All and all a success. We are already planning next year.
Lately, my workouts suck. I took out my knee last tuesday. Sat on the ground wrapping presents for too long and the whole thing seized up. I am not shocked. My knee and I have been through alot, and it has really taken a beating. My right knee is the rough one. It is shaped differently then my left, and when I stand up straight it goes back farther then my left. If that makes sense. All in all, i need to be careful. I REALLY don't want to have something horrible happen. Like my MCL or ACL being taken out. So I have been babying it for the past week. Probably too much, but I want to be safe then sorry. But I am going to try zumba tonight. With a knee brace, of course.
Weight loss is really a love/hate relationship. More hate lately. I cannot seem to get my brain and body together. But i am still going to try. As I have said before, I am an "all or nothing" kind of girl. If i screw up, i go down deep, i cannot seem to let myself be okay with my failures. Which is something I am working on. Especially with a half marathon next year, I am going to have to learn.
So the goal is now, to track my food, no matter how horrible it looks, work out 3 times a week, and get down to 182. After that, I will access the situation. And I have to be okay with that. Long struggle.
Christmas doesn't help. I swear, we try to prepare ahead of time, we even bought the Santa gifts in October, but its still not done with it all. With Christmas shopping means less groceries for good food. I have been turning to a lot of processed meals. Gosh, its horrible. But only 14 days til Christmas, yay! We picked up moms computer on Saturday. Its a nice feeling to have that done. She best cry on Christmas.
I also got a smartphone, FINALLY! I feel like an adult now. LOVING the instagram app and draw something. Photography is in my blood, so i love messing around with it. To leave ya, here are some pics. (Mostly of the cats)..