*Please note: There are no pictures with my pants around my ankles.*

I reached 66 pounds down this past week, which is about halfway to my goal weight. All of a sudden it seems that a lot of my clothes are way too big. My winter coat is very baggy. I have noticed shirts especially becoming very loose. I decided to go shopping in my own closet. I have a pair of brown corduroy pants that I had been waiting to fit back into. This week I wondered if they fit. I pulled them on, let go, and they fell down around my ankles. They are several sizes too big now. It is amazing how those changes sneak up on us.
It probably isn't so much that the changes are sudden, but rather we just don't notice them right away. Needless to say, it has been fun shopping in my own closet. I know that the general advice is to throw out clothes that don't fit any longer, but I did not throw out my clothes that fit me when I was thinner. I knew I would fit into them again. I am not going to keep the clothes that no longer fit me from being too loose, however. I never plan on fitting into those again.
Workouts have been going well. My body has felt much better since I stopped lifting weights. I've been doing a lot of Pilates, yoga, and body weight exercises. I have been trying to do anywhere from 30-60 minute workouts of Pilates, yoga, and body weight exercises 4-5 days a week. I have been doing kettlebell workouts once or twice a week, and those have felt pretty good. I like that I can get in some resistance training for my lower body with kettlebells. I now know that my body was just not able to recover adequately with doing both weight training and Jiu Jitsu. I feel more energetic during Jiu Jitsu now, although my right shoulder is still healing, so that arm is still fairly weak. Overall though, exercise has been great.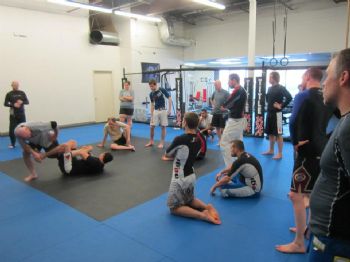 Picture from Jiu Jitsu class Saturday. I am in the gray shirt standing in the back; I was shocked at how lean I look, especially in the upper body. I will post progress pics over the next couple of weeks.
Eating has been going pretty well. I have been less ravenous since cutting out weight lifting. I believe my body is not demanding so much food for muscle recovery now. I have been tracking on most days. Even on days when I haven't been tracking accurately, I no longer go nuts on the food. Actually, my old cravings for foods like pasta, pizza, and other wheat/dairy foods have been virtually non-existent. I worked hard on training my brain that those foods are truly not good for my body and will just cause me to feel like crap. This is not to say that I will never have pizza or wheat pasta ever again, but they have both become very rare treats. I do feel fortunate, however, that dark chocolate is a health food. I have an ounce or 2 every day.
It has taken me over 2 years to lose 66 pounds, a pace that a lot of people would consider to be "too slow" (by the way, that averages to about 0.6 lbs/week, so that is a healthy pace to lose). I'm not living my life for weight loss, I am losing weight because I am finally living my life. Allowing myself to grow as a person and really getting know myself has caused me to lose weight naturally without having to drive myself nuts with "dieting." It truly does not matter how long it takes for me to reach my goal weight. I am already a new person, inside and out.