Monday, December 10, 2012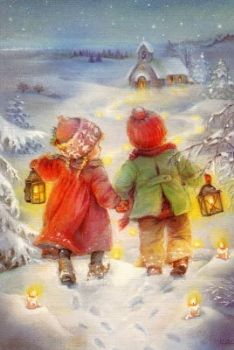 Well this days picture collection is pretty easy to relate to the Christ of Christmas..Churches are in so many of our christmas pictures as the main part but even more of them have a church in the background in some form as if the house of prayer is always there in our hearts and minds even when we are busy with other things. I loved this picture [by a new favorite artist Lisi Martin] as two children that I picture as brother and sister holding hands and going to church. Then I think of two young adults going with hands held and now in my old age I go to church with my sweetheart of 34 years and we still hold hands!!!
Love is so precious and supportive in this pic and in my life, I am blessed that the church has been such a central part of my life from infancy through career, raising our children and second career and now into old age- the church and my church family are vital part of daily life.