Monday, December 10, 2012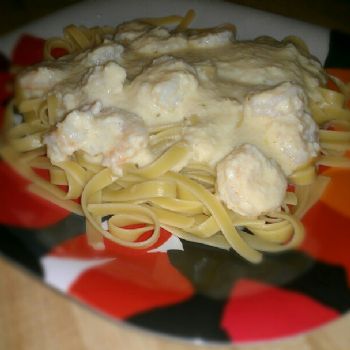 Use one serving of Fettuccine noodles. Start boiling the water.
Boil 2/3 cup fat free skim milk, add 1 tablespoon of I can't Believe It's Not Butter Light, bring to boil.
Once boiling and butter is melted and mixed into the milk, add 1 wedge of garlic and herb Laughing Cow cheese, mix well into the milk and butter.
Once that's mixed in pretty well, add 6 teaspoons of Kraft Grated Parmesan and Romano Cheese. Mix it well on high heat, and reduce to a lower heat towards the end while the pasta is cooking.
Use 1 serving of medium shrimp and mix into the Alfredo sauce. Once finished either pour the shrimp/cheese sauce over the noodles as pictured, or mix the noodles in with it (which is also great).
This is for one person, adjust as needed.