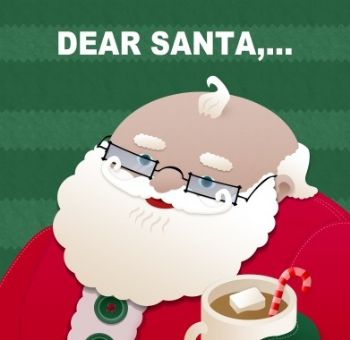 Dear Santa,
I have been a very good girl this year. I have tracked all my food (Except on holidays. And my birthday. Nobody tracks calories on their birthday. And days when my DH brought home Chinese. You know I love Chinese and there is no way I'm tracking those calories.)
*sigh* Ok, I have tracked most of my food on most days. And I exercised every day. (Or... at least 3 or 4 days per week. Except on holidays and birthdays. And sick days. Nobody can expect you to work out on sick days. And days my DH was sick. You know how needy he gets when he's sick.)
*sigh* Ok, so I exercised some days during most weeks. Oh and Santa, I drank lots of water too. I drank 8 glasses a day! (Or 4. Or maybe almost 2 sometimes. Except on holidays, birthdays, sick days and vacation days. And days I went shopping. Cuz drinking all that water makes me have to...well, you know.)
*sigh* All right, so sometimes I drank some water. (Coffee counts. Right? Sheesh.) Ok then. So I have been, ummm, better than last year anyway. And all I want for Christmas is a truckload of toilet paper. Cuz I am NOT kidding about the drinking thing. It really makes me...well, you know...And can you make it the good 3-ply stuff? After all, it is Christmas. Thanks, Santa.
Love,
wacfit
P.S. Here are some fat free rice cakes and skim milk. (I didn't like them anyway.)
P.P.S. And, uh, Santa, you might want to think about joining Spark People. You could stand to lose a few. Just sayin'. (Keepin' it real.)
P.P.P.S. Gotta go. (Again.) *sigh*