I just came back from a 7 day vacation in White Point , Nova-Scotia.
It's a really beautiful place.
Me, 3 of my sisters and my 85 year old mom spent a week in a cabin in the woods near the water.
Can't swim because it's too cold,but it was nice enough to go for long walks.
Very peaceful,quiet and restful.
We slept,ate well,went for walks and played cards.
I hadn't played cards in ages and had forgotten how fun it can be when you play without too much competition-just enough to be fun.

It was really weird to spend time with normal eaters.
I was a bit anxious because I have been struggling with my binge eating for the last few months.
Can't hide to binge there! It was hard the first few days,but then the urge passed.
I just relaxed, and observed what they said and did.
Keep in mind that my sisters are all normal weight, and never had a weight problem.
They don't eat junk food on a regular basis. Chips and ice-cream are not a staple at their house.
When supper is done, they are done eating for the night. No chips, or whatever while watching tv.
If they are full after a meal, it does not matter how good the desert looks (and believe me-it looked delicious) they will not eat it.
They naturally practice portion control.( I was embarrassed one night because I noticed I took twice the stew in my bowl that every body had.

).
None of them had tried Greek yogurt yet-I did not share that for a few weeks I had a container a day of the stuff because it was so good.I don't get it anymore because I turned it into a binge food-if it's there,it calls my name until it's all in my tummy.
But my sister does not buy dark chocolate because she will eat it all(like me with the yogurt,it calls her name).
So,even if they are not binge eaters, they sometimes struggle with some favorite foods too.
They like to be hungry before they eat. They know they will be ok if they don't eat right away.
I had a hard time the first few days,but I got the hang of it also. Today, I was going to a Christmas supper and since I had a late lunch, I purposely chose not to eat before I went and it really tasted better.
One of the things that I realised too is that I eat when I'm stressed and tired.
Solution? Get enough rest, manage my stress and it should be easier to manage my food.
Sounds simple, so why do I have such a hard time at it?
It's hard, like now, I should be in bed but I'm still sparking.
And 2 weeks before Christmas and i'm not ready.

Deep breaths, a nap of 10 minutes in the afternoon, daily exercise, conscious eating, and it's in the bag!!!!
The last 55lbs will melt off in time for July!!!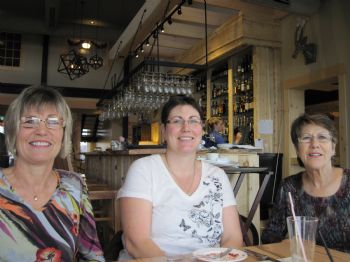 Me (middle) and 2 of my sisters at the lodge restaurant.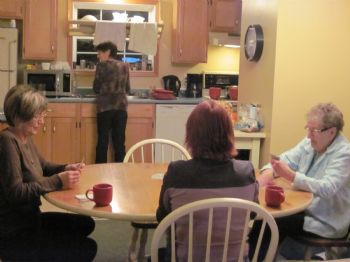 Getting ready to play cards while one sister is starting the dishes.
We lit a fire in the fire place every afternoon and we watched a Christmas movie at night.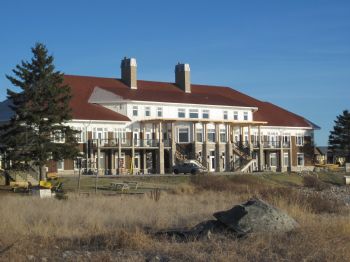 Back of the brand new lodge facing the ocean -the old one burnt down last year.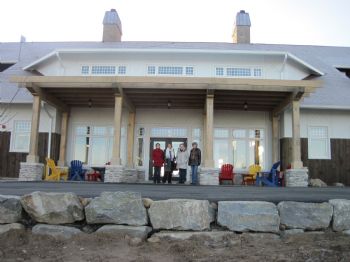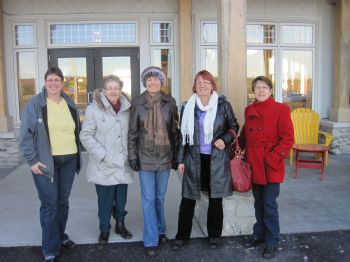 The five of us in front of the lodge.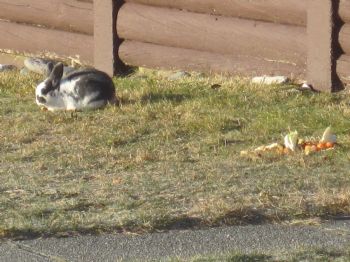 There are lots of bunnies that we can feed.
We gave them carrots.
So hopefully I can practice what I learned on normal eating and lose the rest of my weight before my b-day!